I had the absolute honor of meeting and getting to shoot at the range in Park City, UT, with George Petersen, aka Jack Carr. For the sake of this article, I'll refer to him as Jack. Jack is a Retired Navy Seal and a #1 New York Times bestselling author of The Terminal List book series. He also hosts the Danger Close Podcast and somehow makes time for his family and friends between all of that work. I was asked to travel to Park City, UT, to film with the crew at Athlon Outdoors for their Free Gun Friday giveaway series. In the most recent monthly giveaway and several upcoming months of giveaways, they're including signed as well as some unique "shot through" editions of his new book, Only the Dead. So Jack Carr met up with me at Park City Gun Club to film some cameos for the upcoming giveaways.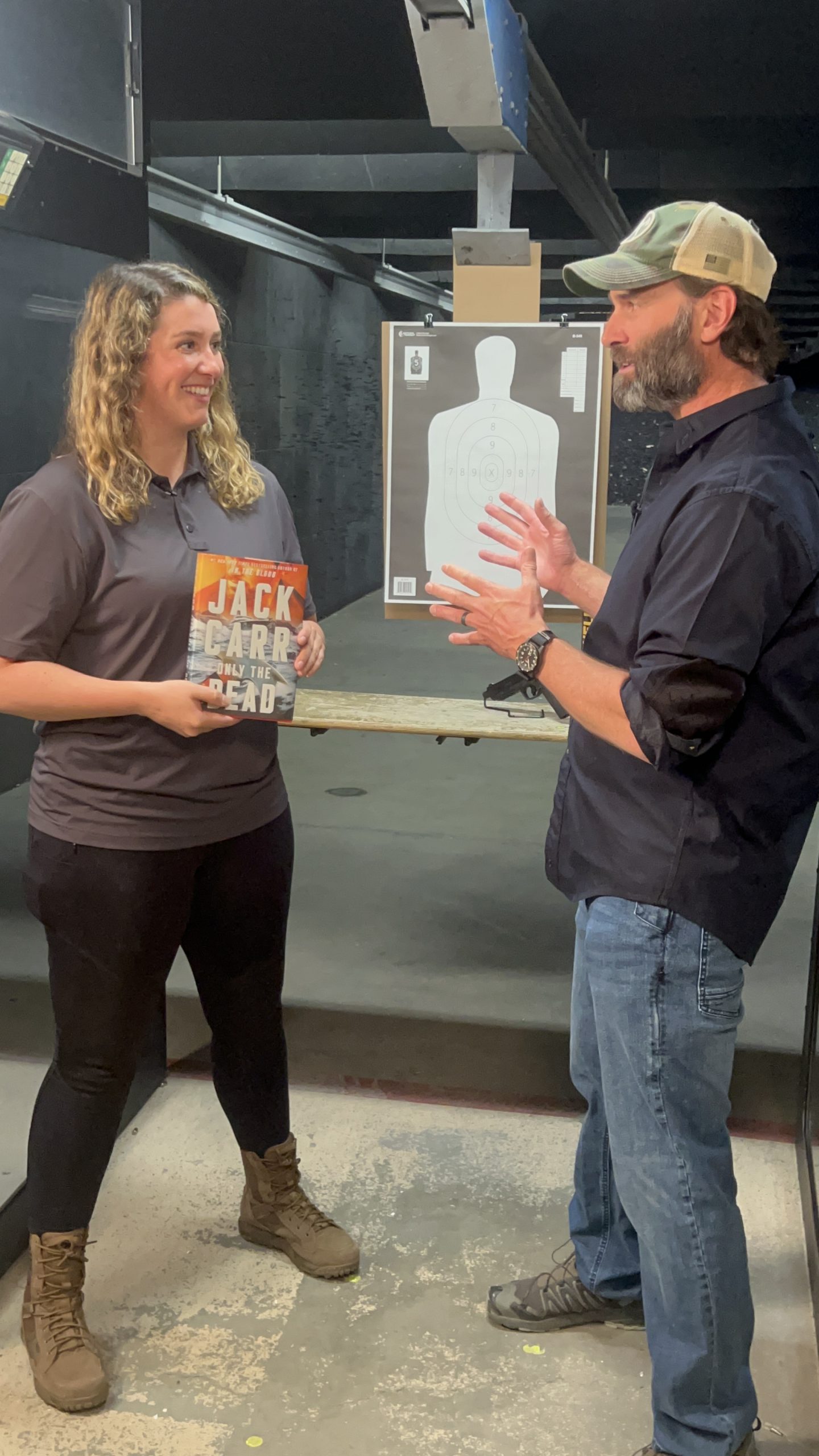 When I was first told I would potentially be filming with Jack, I didn't want to get my hopes up. I'm a busy gal, and yet, I know Jack is 10 times as busy as I am. How would he possibly have time on the one weekend the film crew and I were available to shoot the next monthly giveaways? I didn't see how the stars would align for that. Well, it was the day before I was to fly out, and I got a text that all was confirmed for Jack to be at the range with me, and that's when all of the excitement set in. I still didn't want to get my hopes up in case a catastrophe happened, or he got sick or whatever, but it was hard not to be excited if this was really going to happen. Until I saw him in person, and even after he was there, it really wasn't real to me.
As a Navy Seal, you could say Jack Carr knows his stuff and has spent more time behind guns than most. As someone who spends a lot of time in the competition world and not enough in the tactical world, there are a few lessons I gleaned from Jack in my short time with him:
Be a Student of the Gun
Regardless of where you're at in your life, you should never feel like you're too good to learn something new. Unfortunately, I meet too many people who think they know everything and there's nothing much more they need to learn. We all should strive to be life-long learners, and I can tell you Jack is just that. We had several guns with us on the range that we were filming with for Athlon Outdoors, and none of the guns there were any I had ever picked up before. One was even the new Echelon from Springfield Armory. We also got to shoot the 5.7 M&P from Smith & Wesson, and both Jack and I were beyond interested in seeing this unique round in person.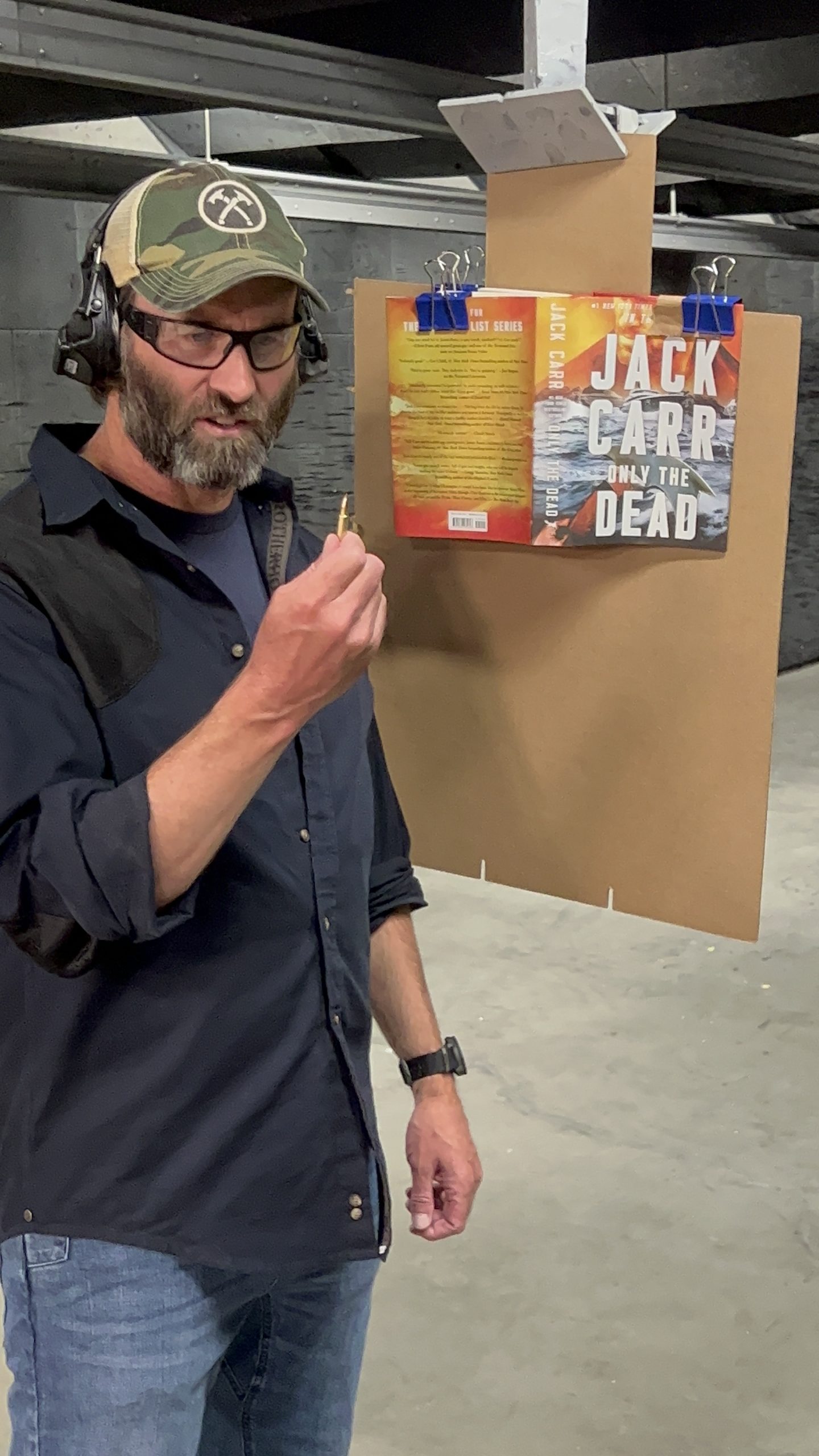 I was weirdly in awe watching Jack Carr inspect boxes of ammunition, look at the holes shot through his book, and watch him pick up these guns for the first time ever. He would go through the gun's grip, check out the sights, work the action, and just get his bearings on the gun before shooting it. Before shooting his books, he would go to the side of the range and test-fire the gun first to see the impact point vs. where he was aiming. Jack is truly a student of the gun. He wants to understand how a gun functions, what the ammunition does to a target, and how fast the ammo is moving, and all of this opened my eyes more to him as an author. As an avid reader and a HUGE gun enthusiast, I was so pleased reading about Super Vel ammunition in the latest book, how James used a Kestrel in the first book, and how he always has James Reece press check a gun before holstering it or using it. Jack does his research into tools, weapons, ammo, gear, and more before ever writing about them in his books. Watching him do his thing on the range gave me so much insight into how he studies things in depth and is there to learn.
Always Be Open to Learning from Anyone
When I showed Jack Carr the rifle we were giving away and going to be shooting with on the range, he asked ME how I would shoot that rifle since it was kitted with a foregrip/hand stop, and I partially had my breath taken away. What do I know that he wouldn't know? He's a freaking Navy Seal! I told him as such in my response, but I also mentioned how I wouldn't shoot it in that setup, not for competition anyways. I shared that having an upper grip of any kind or hand stop can actually introduce issues in shooting through rifle barricades or moving between walls, or even trying to set the hand guard on a prop would be impossible to get stable. I also shared that this is all purpose-driven too. That a rifle with a hand stop or foregrip might be ideal for CQB, clearing houses, or military or LEO applications, but for a predominate competitive shooter, that's not something many of us run. The fact that he even asked me questions about the guns, the ammo, and the gear truly surprised me. I wasn't expecting someone with more lifetime shooting experience than I've been alive to ask me anything that I could potentially share knowledge about. This was the biggest reminder to me that you can always learn from anyone, no matter their background, experience level, age, gender, or any of that.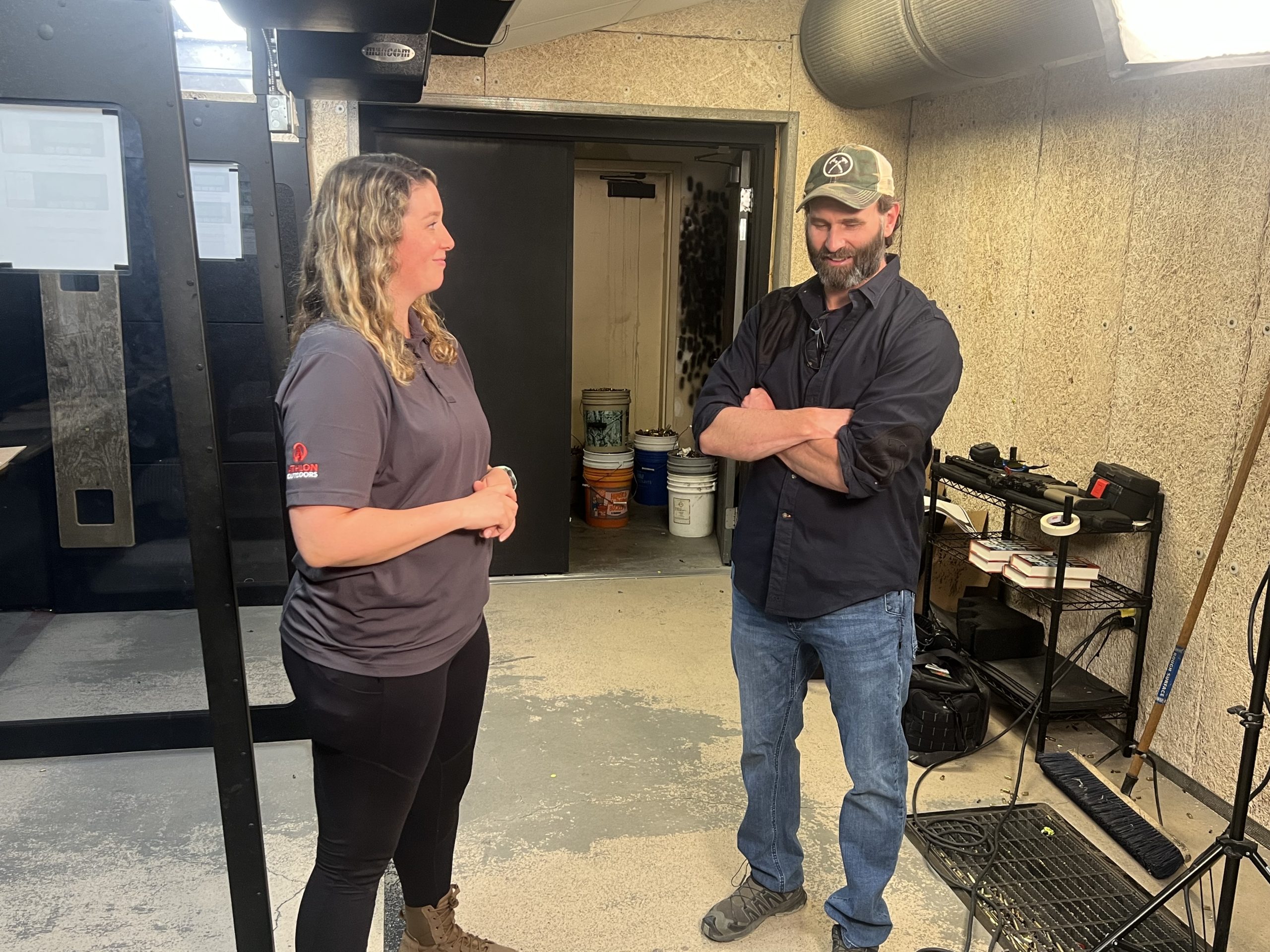 Seriously, Always Carry a Gun
When I first got to the range, the editor and film crew were getting set up for the day. I started to help unpack the gear, and when I pulled out my knife to cut open a box, I was asked by the editor, "How did you get a gun through security?" I laughed and said, "I don't just have a knife on me. I checked a bag." He responded, "You don't go anywhere without a gun, do you?" "Never," I said.
Jack, I found out, is the same way. Jack Carr is always carrying his trusted Sig Sauer pistol and doesn't leave home without it. I don't find carrying a gun an inconvenience; I find it comforting. I check my pistol when I fly, and when I drive across the country, I'm always packing. Plus, my custom donut holster from Crossbreed is just fun to carry.
In all seriousness, seeing the print of Jack's gun for a second or two on the range gave me great joy in knowing I am not alone in wanting to protect myself. It solidified that I was surrounded by someone else who thinks in a similar way that I do, and that is to always be prepared. It doesn't matter where we go or who we are surrounded by, we are responsible for our own protection, and the best way to do that is to carry a gun. This is true, especially if you're traveling and are in an environment that is not familiar to you.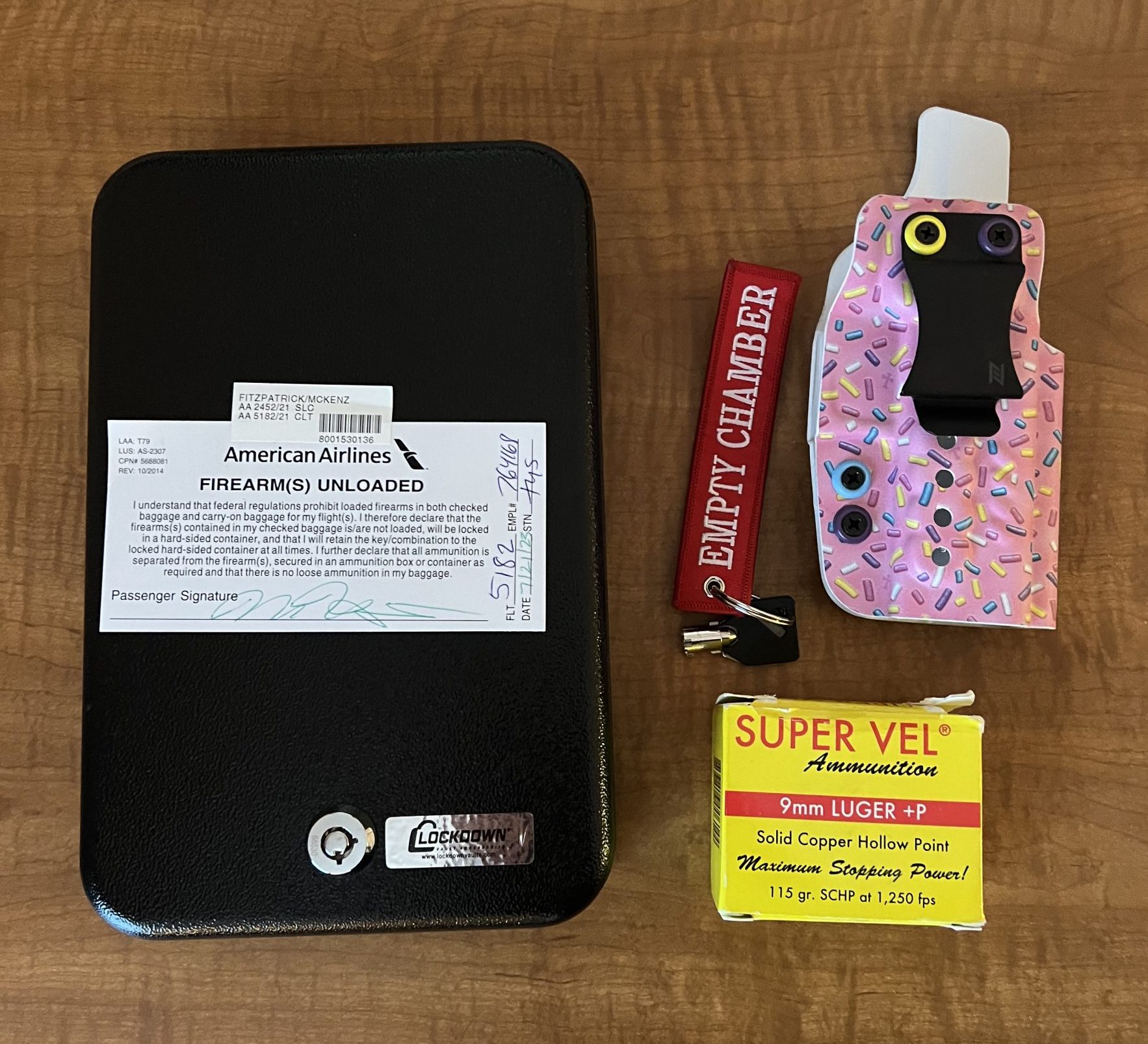 One for the Books!
See what I did there? Seriously, this experience was something I'll never forget, and it was truly an honor to meet Jack Carr; shooting and filming with him was just icing on the cake. I can't tell him or Athlon Outdoors thank you enough. Be sure to check out Jack's books and podcast, and check out his new merchandise at officialjackcarr.com. And be sure to stay signed up for Athlon Outdoor's newsletter and enter to win their Free Gun Friday sweepstakes each month, which include Jack's new book in the next few months!
ABOUT THE AUTHOR
Kenzie Fitzpatrick is a professional competitive shooter and an active blogger for many firearm websites. As an NRA-certified instructor and National Range Officer Institute Chief Range Officer, Kenzie trains new shooters on basic firearm safety, brings new shooters to competitive shooting, and works major matches across the country. She has a passion for teaching people how to carry concealed and is a positive ambassador for the Second Amendment. Kenzie is also the host of the Reticle Up Podcast, where she interviews competitive shooters, hunters, anglers, archers, entrepreneurs, and outdoorsmen.
You may also enjoy these popular articles:


©MTC Holsters, LLC and CrossBreed Holsters Blog, 2021.
Unauthorized use and/or duplication of this material without express and written permission from this site's author and/or owner is strictly prohibited. Excerpts and links may be used, provided that full and clear credit is given to David Workman and the CrossBreed Blog with appropriate and specific direction to the original content.