There comes a time when a good thing has to end. Often, something better has come along that makes the old obsolete. The new is better, or at least everyone involved hopes it is. Such is the case with the Springfield Armory XD full-size series that is being phased out and replaced by the newest up-and-comer, the Echelon, which picks up where the XD series left off as a replacement for a highly successful but dated line of excellent handguns.
Introducing the Echelon
Like the XD series, the Echelon is starting with a full-size version that fits many roles, from range gun to patrol sidearm to EDC for those who prefer to carry large. Springfield is bringing out four variations of the Echelon, but their differences are minimal. They will unlikely create a compact little brother because the Hellcat version covers that size well. Now that all the background stuff is out of the way, let's get into the nuts and bolts of the Echelon.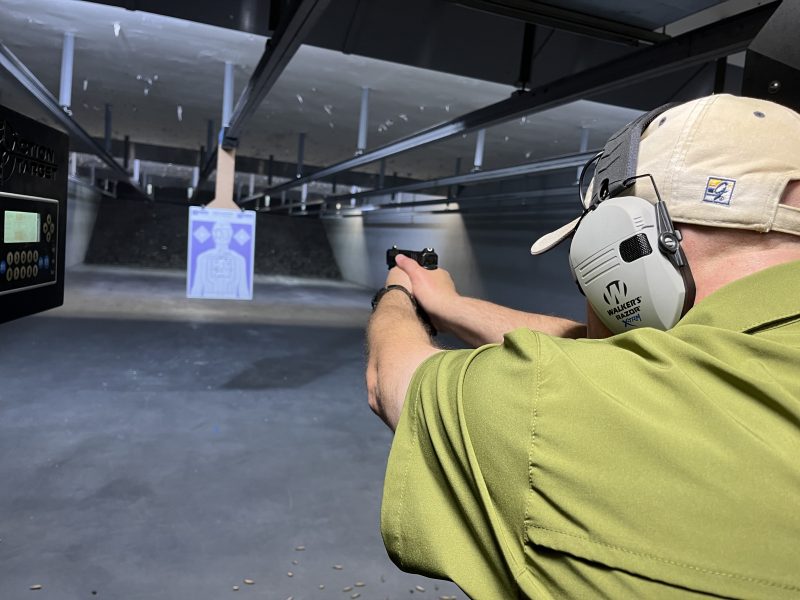 Everyone will ask the most obvious question: "Do we really need yet another polymer striker fire handgun?" The answer is yes, not because I'm a polymer striker fire Kool-aid drinker (I'm not) but because having more guns on the market makes everyone try harder to improve their next design. It's called healthy competition.
If you're a polymer pistol hater, you can stop reading and click here to buy an excellent holster for your 1911.
For the rest of us, here we go…
Specs:
COLOR: Black

BARREL: 4.5″ Hammer Forged Steel, Melonite® Finish, 1:10

SLIDE: Billet Machined, Melonite® Finish, Optics Ready

FRAME: Black Polymer

SIGHTS: Tritium 3-Dot

RECOIL SYSTEM: Captive

GRIP WIDTH: 1.2″

MAGAZINES: (1) 17-Round, (1) 20-Round

WEIGHT: 23.9 oz w/ Flush Mag, 24.3 oz w/ Extended Mag

LENGTH: 8″

HEIGHT: 5.5″ w/ Flush Mag, 6.5″ w/ Extended Mag
I got my hands on an advanced production model back in May and got to play around with it at my local range. Unfortunately, I only had a few hours with it because I had to send it back for holsters to be made, but it didn't take long to dump a couple of boxes of ammo downrange and get some initial impressions.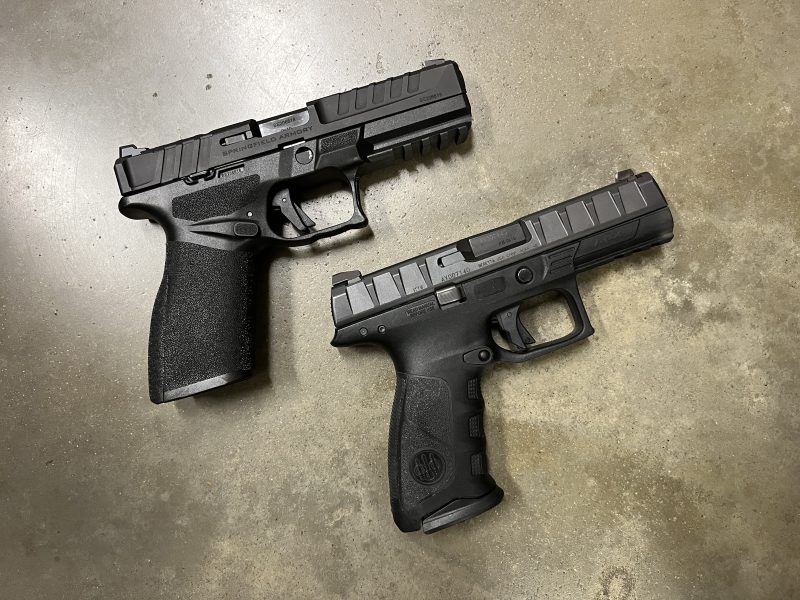 Shooting
The first thing I noticed was its similarity to the Beretta APX, with its chunky slide and aggressive slide serrations. This observation is not a complaint. Far from it. One of the biggest recommendations of the APX is how easy it is to rack the slide. Kudos to Springfield for mimicking that feature. Sincerest form of flattery, right?
Speaking of the slide, it is optic-ready for various red dots, although Springfield would love to sell you one of their proprietary Hex aiming windows.
Once it was in my hand, the grip texture felt superb. Certain gun manufacturers are known for doing things well. For Springfield, it's their grip texture — not too harsh but rough enough to provide solid contact and firm stability under recoil. The first Springfield that nailed this, in my opinion, is the Hellcat Pro. Add the Echelon to the list. Some are suggesting the Echelon is really just a full-size Hellcat. If so, then we can assume they won't make smaller versions of the Echelon. But that's not been publicly announced, so we can't guarantee that.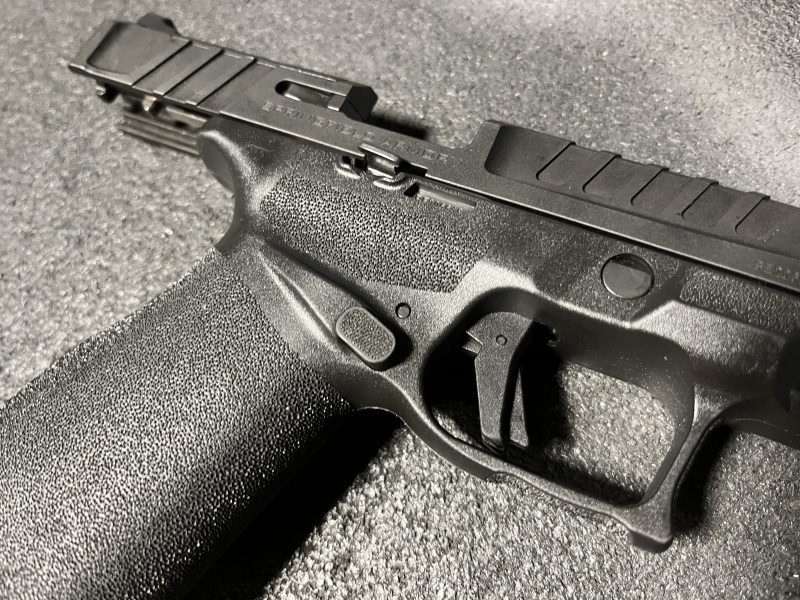 What we can guarantee, however, is that the Echelon is a great shooting gun. It felt very balanced and even-keeled under both slow and rapid fire. The recoil was highly manageable with minimal muzzle rise. I also had zero malfunctions through over 200 rounds. The flat-face trigger was crisp, with a short reset, an area Springfield has put a lot of work into after receiving criticism over mushy triggers in the XD line.
The sights come in two styles: all tritium and the standard Springfield U-notch back and tritium front. Which one is better? It's personal preference.
Magazine-wise, Springfield throws in two steel ammo sleeves: a 17-rounder and a 20-rounder. (There's a 10-rounder option for those who live in communist states.) There is also an option for a 1/2 x 28 threaded barrel.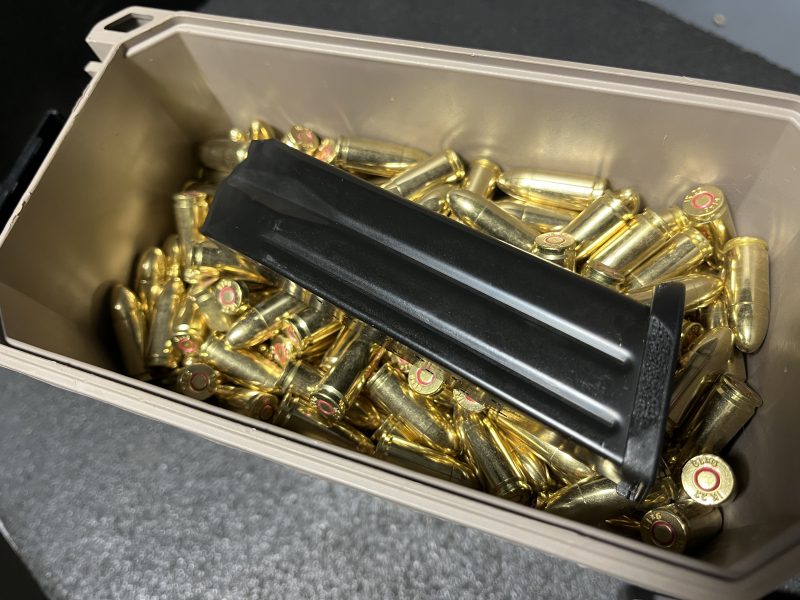 Wrap Up
Springfield has had a few bumps along the innovation road over the past few years, but the Echelon is the latest in the company's increasingly successful efforts to change the brand's perception, something started with the Hellcat series for compacts and the XDM Elite. The Echelon will not revolutionize the polymer pistol industry, but it has some nice features only found on a few others, and rarely all are found on the same gun. Overall, the Echelon is a solid-shooting gun that will appeal to a wide variety of shooters.
ABOUT THE AUTHOR:

David Workman is an avid gun guy and a contributing writer to several major gun publications. As an NRA-certified instructor, David trains new shooters on basic handgun skills and CCW requirements and is a strong advocate for training as much as possible. "Real-life shootouts don't happen at a box range."
You may also enjoy these popular articles:


©MTC Holsters, LLC and CrossBreed Holsters Blog, 2022.
Unauthorized use and/or duplication of this material without express and written permission from this site's author and/or owner is strictly prohibited. Excerpts and links may be used, provided that full and clear credit is given to David Workman and the CrossBreed Blog with appropriate and specific direction to the original content.