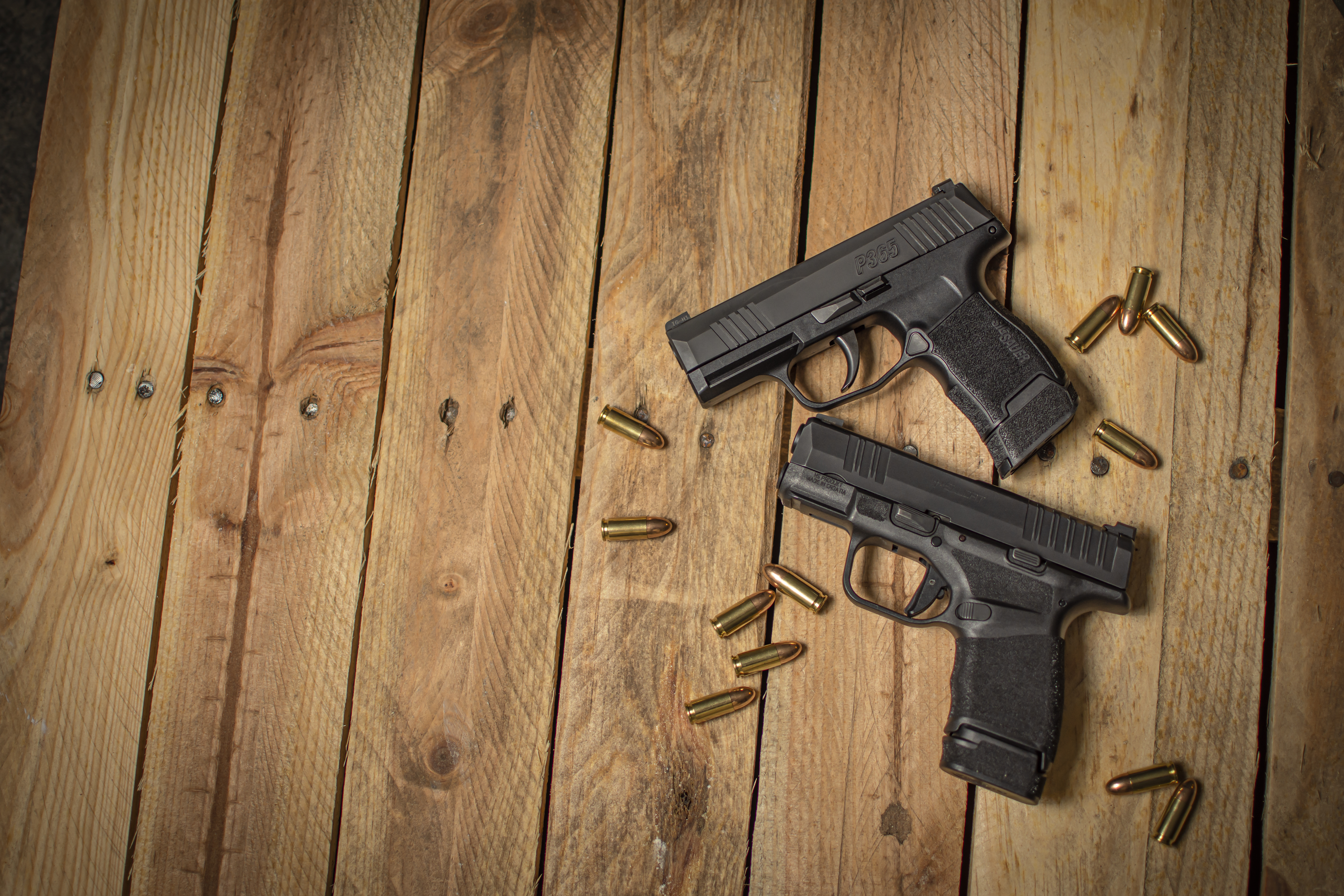 Micro-Compact pistols are so hot right now and the SIG P365 & Springfield Hellcat are right at the top of the heap!
MICRO-COMPACTS: the new breed of concealed carry handguns that gives shooters a gun the size of a pocket pistol with the capacity of a traditional subcompact. As a new genre, the options are limited but Springfield Armory and SIG Sauer entered the ring swinging with the Hellcat and P365 respectively.
We set these popular 9 mm pistols side by side and ran them slide to slide to evaluate what makes each gun unique and (hopefully) help readers decide which one is right for them!
So, let's kick it off!
Specifications
First, let's see how they stack up on paper:
Springfield Hellcat

SIG P365

WEIGHT

17.9 ounces

17.8 ounces  

CAPACITY

11+1 (flush fit) 

10+1 (flush fit)

BARREL LENGTH

3 inches

3.1 inches

OVERALL LENGTH

6 inches

5.8 inches

HEIGHT

4 inches 

4.3 inches

GRIP WIDTH

1 inch

1 inch

SIGHTS

Tritium Luminescent/Tactical 

Rack "U" Notch

Tritium X-RAY3 Day/Night Sights

FRAME

Black Polymer, Adaptive Grip Texture

Stainless Steel, Polymer Grip

MSRP

$569 (Standard) 

$599 (Nitron micro-compact)
Now that the stats are out of the way, let's break it down.
Capacity
This is where both of these guns shine compared to the competition. Both the SIG P365 and Springfield Hellcat have an efficient design that blends concealability and high capacity. The P365 comes with two ten-round magazines in the standard package. The Springfield Hellcat comes with one 11 round magazine and one 13 round magazine.
The P365 does have both 12 and 15 round magazines. However, it should be noted the flush-fitting magazine for the Hellcat is 11 rounds, and the flush-fitting magazine for the SIG is ten rounds. The Hellcat is also slightly shorter in height than the SIG. This gives the Hellcat the more efficient magazine. Plus, there is no need to buy an extended magazine for 40 to 50 dollars.
In terms of capacity, it comes to down to magazines and on this one, the Hellcat wins.
Ergonomics
Ergonomics in terms of how the gun feels is all on the user. It's hard to have an objective winner in this portion of our P365 vs Hellcat comparison. Lots of people think the Gen 4 Glock has excellent ergonomics, but I find it to be a bit uncomfortable. It's all subjective to the end-user. What I want to talk about is the differences and what and why I think each gun does better.
In terms of grip, both are comfortable and well made. The Adaptive Grip Texture Springfield uses is excellent and very grippy. SIG's texture is also more than suitable. The Hellcat's texture does go higher on the grip.
The SIG P365 offers a curvier grip, and the Springfield Hellcat is more boxlike. The Hellcat does have a slightly wider magazine well for more intuitive reloads.

Both guns have simple controls. They are made up of a magazine release, slide release, and trigger. The magazine release for both guns is reversible. The Hellcat's magazine release is more significant and sticks out further, making reloads easier.
The slide locks are present but somewhat useless for me. With a thumbs forward grip, they remain pinned down when the last round is fired.
The slides both have front and rear serrations. The serrations on the Hellcat go all the way over the slide. The SIG P365 does take less force to manipulate the slide and is ultimately easier to rack.
P365 vs Hellcat Sights
The sights are divisive, but for a good reason. Both Springfield and SIG outfitted their guns with outstanding sights. Both guns come with night sights. The SIG uses a three-dot variety with a high visibility green insert for quick daylight shooting. They glow brightly and are easy to pick up in any lighting condition.

The Springfield Hellcat (above) uses a front night sight with a high visibility yellow insert for daylight shooting. The rear sight features a big half-circle. These U-Dot sights are quick to pick up and also work in any lighting condition.
The main difference is speed and precision. This is just from my perspective, but I find the Hellcat is faster and better for close ranges – within 15 yards.
Conversely, I find SIG's sights to be easier for long-range shooting – from 15 yards and out.
As far as their sights are concerned, it's definitely a matter of personal preference.
Getting Triggered
The triggers for both guns are excellent, and there are slight differences. First, the SIG P365's trigger is rounded while the Springfield Hellcat's is flat with a toggle-style trigger safety. The Hellcat has a stiffer trigger that many will likely enjoy for concealed carry purposes while SIG's trigger is lighter, and a hair longer.

I found neither trigger detrimental to accuracy but swapping between the two guns one magazine after another makes the differences more pronounced.
Again, it's a matter of personal preference when it comes to which trigger works best.
Accuracy
So both have awesome sights and good triggers but both are also small guns. I will say I was able to shoot faster with the SIG than the Hellcat. With the Hellcat, it took some time to get accustomed to the U-Dot sights.
With the SIG, I am more accurate at longer shots – noticeably more accurate. The sights are better suited for those longer shots. At concealed carry ranges, I noticed no difference in accuracy between 0 to 10 yards.
SIG P365 & Springfield Hellcat Reliability
Technically the SIG is more reliable, but perhaps that's because it has close to triple the round count and available for twice as long. That being said, both guns are incredibly reliable and eat up the cheapest, dirtiest ammo you can toss at it from 147-grain pistol poppers to 90-grain reduced recoil rounds without issue.
So all things being equal, this will only be determined with the test of time.
Notable Features
There are a few small features each gun has that also bears mentioning in your search to find the right concealed carry gun for you.
Rail – Both guns have rails, but the Hellcat is a standard Picatinny rail, and SIG's is proprietary.

Standoff Device – The Hellcat has a standoff device built into the gun. This small device is beneath the barrel and allows you to jam the gun into something and still operate it.
Optics Cut Models – The Hellcat has an OSP optics ready model for 30 dollars more. The SIG only has the XL model with an optic's cut.

Chassis System – The P365 uses a similar system to the P320 in which the serialized portion is a chassis that's removable. This allows for easy frame swaps and will enable you to change the gun immensely.
Which One is Right For You?
Both the SIG P365 and Springfield Hellcat represent the best of the current micro-compact options out there and are great options for anyone looking for a new concealed carry handgun. Hopefully, this guide will help you decide which one is right for you!

Which one do you like? Do you carry one of these micro-compact pistols? How long have you owned it? What do you like most about it? Sound off in the comments below, we want to hear from you!
ABOUT THE AUTHOR:
Travis Pike is a former Marine Machine gunner who served with 2nd Bn 2nd Marines for 5 years. He deployed in 2009 to Afghanistan and again in 2011 with the 22nd MEU(SOC) during a record-setting 11 months at sea. Travis has trained with the Romanian Army, the Spanish Marines, the Emirate Marines, and the Afghan National Army.
He serves as an NRA certified pistol instructor and pursues a variety of firearms based hobbies.
You may also enjoy these popular articles:

©MTC Holsters, LLC and CrossBreed Holsters Blog, 2020.
Unauthorized use and/or duplication of this material without express and written permission from this site's author and/or owner is strictly prohibited. Excerpts and links may be used, provided that full and clear credit is given to Travis Pike and the CrossBreed Blog with appropriate and specific direction to the original content.
TAKE OUR ONLINE SURVEY NOW!