As a firearms owner and instructor, I look at eyewear from two perspectives: ballistic rating and how well it cut down on glare.
Traditionally, when we think of range eye protection, we picture a dedicated set of specs that lives most of its life in the range bag and only comes out when it's time to spout off some freedom seeds. Otherwise, they stay buried among the speedloaders and spare magazines. But what if you could find eye protection that also looked good on a weekend drive in the country or cross-country skiing on a sunny winter day when glare is at a maximum?
If you're like me and go through several pairs of sunglasses per year, you're probably hesitant to invest much in a single pair because you're afraid you'll lose them by the end of next week, maybe sooner. Spend less per pair and you don't miss them as much when they're gone, right? But my condolences to your bank account because even cheap sunglasses cost a lot when they're constantly being replaced. Spend $10 per pair times 12 pairs per year and you're shelling out $120 before you know it. But what if you could find a pair of reasonably priced eyewear that is worth paying a bit more for upfront because they are so much better than anything else you've ever worn on your face? That makes more fiscal sense.
The Leupold Becnara is just such a product that is worth keeping track of, not because they cost a bit more than the average sunglasses but because they work so much better. Replacing these with something similar won't be easy if you want another pair that performs as well.
Long-time optics maker Leupold has been outfitting gun owners for decades with the latest optics, red dots, binoculars — pretty much anything with glass to see through. Or in some cases, polycarbonate. Their reputation for excellent optical products has positioned them as the Cadillac of the optics industry, almost to the point where all the other manufacturers compare themselves to Leupold. "We're not Leupold, but we're close" has probably been heard in a lot of optic makers' marketing departments.
The Becnara performance eyewear is yet another of Leupold's outstanding products geared not only at gun owners but also at anyone who needs both ballistic and UV protection for any outdoor activities. You don't have to own a gun to benefit from a pair of Becnaras.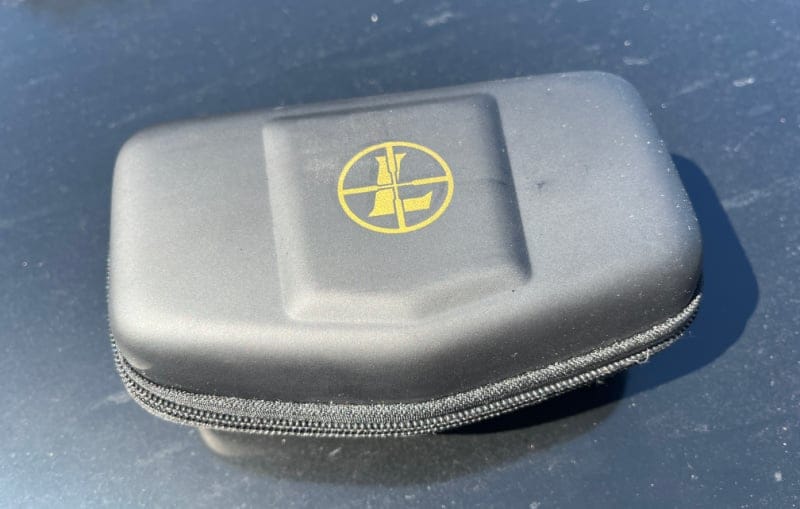 Before we get into my experience with the Becnara, let's look at the specs (pun intended) according to Leupold's website.
Frame Material: TR90

Hinge Material

: Stainless Steel

Lens Color: Bronze Mirror (matte black, bronze mirror finish only)

Polarized: Yes

UVA Protection: 100%

UVB Protection: 100%

Lens Material: Polycarbonate

Total Length (mm): 159

Total Width (mm): 142

Temple Length (mm): 134.9

Total Height (mm): 49.1

Lens Thickness (mm): 2
Being in marketing, the first thing I noticed when my sample pair arrived was the presentation. How was the packaging? Did it look appealing? How was the unboxing? If you pay a premium price, you expect a premium experience. Leupold did not disappoint. Not only was the outside packaging robust and substantial, but the opening was rather dramatic, with the box sliding open slowly like a curtain rising on a Broadway show. Inside, the outer shell rested comfortably inside a foam cutout. The shell itself was also beefy, with a heavy-duty zipper keeping the clamshell closed.
Inside the case sat yet more dense protective foam surrounding the eyewear in a soft touch bag that doubles as a cleaning kit. The first impression set the stage for more. But how would they perform?
When I rate eyewear, I look at three main features that define what separates top-notch facial optics from cheap wannabes. They are:
Lenses

Frames

Fit
(Sorry, there was no way to make #1 start with an F.)
Lenses
The lenses of the Becnara are a three-layered setup comprised of two layers of scratch-resistant polycarbonate surrounding a single layer of polarization material, protected it too will not scratch, nor will it fade since it is protected by the UVA and UVB blocking in the outer lens.
Optically, the lenses are clean and clear, with zero warping around the edges, a common problem with lesser-quality optics. Typically there is a bit of distortion near where the edge of the lens meets the frame, but not with the Becnaras. Instead, I could see all the way around the lenses with total clarity.
Have you ever gotten caught in a sudden cloud burst on the range or anywhere outside and had to give your eyewear a thorough wipe-down to get erase the rain streaks? You won't with these because they come with a hydrophobic layer. I didn't get caught in the rain, but I put them in water to test Leupold's claim and it held up. (I would have said it held water, but, well, it didn't, which is the point.)
As for glare resistance, these lenses are top-notch. They sliced through even the brightest snow glare this winter and sunlight streaming through the windshield. I also wore them when I was zeroing a rifle optic, knowing they were ballistic rated, so I didn't have to worry about shrapnel should something bad happen.
They also stood up to quite a bit of abuse. I'm not gentle with sunglasses, having ruined more than a few pairs by dropping them, sitting on them, and general neglect. In true me fashion, I dropped the Becnara's a couple of times on asphalt, concrete, and gravel — not on purpose — expecting to see scratches on the lens and frame. Nope, not one. They looked good as new.
Frames
I have a wide face, which makes it hard to find sunglasses that fit properly. Most are too narrow and make my face look even wider. When I explained this to the Leupold rep, he had me hop onto the virtual face app on my phone and try on a few different pairs. There were a few I knew I could eliminate immediately, narrowing it down to only a couple of styles. Thanks to the virtual fitting session, the Becnara won.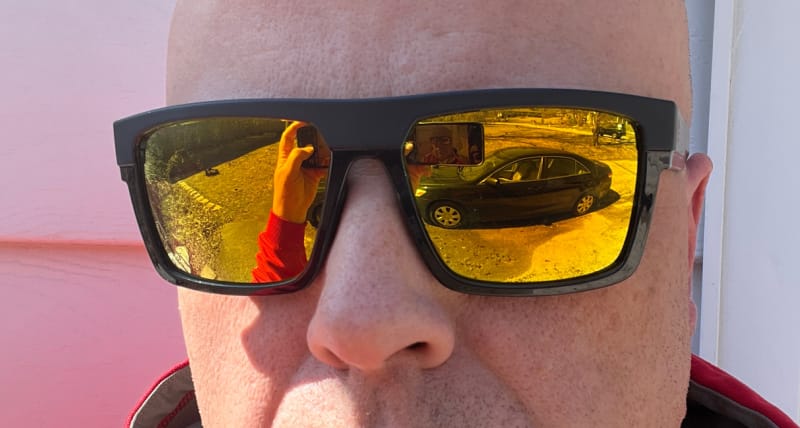 Typically, I bust out or stretch the hinges on cheap sunglasses in relatively short order. Give me a few weeks and I'll figure out how to destroy them just by everyday wear. But after four full months of daily use, the Becnara hinges and ear pieces look the same as the day they arrive, with zero stretch or bend and tight hinges.
Fit
The Becnara frames are wide enough for my massive face that I almost forgot I was wearing them because the outside edges are on the edge of my peripheral vision, not closer as happens with narrower eyewear. I wondered why it was getting darker than normal nearing sunset before I realized I still had them on.
One of my biggest complaints about eyewear in general, whether daily sunglasses or shooting eye protection, is the constant need to adjust them. They creep down my nose or shift around on my ears, and I find myself giving them far more attention than they deserve. But the Becnaras feature "sticky" pads in all the right places: two on the nose bridge and one on each earpiece. And they stay sticky. When I say they are sticky, I don't mean they have glue on the outside. The rubbery material has just the right amount of friction to keep the pair firmly planted on my face yet easy to remove on purpose.
Overall Impressions
While $159.99 may seem steep for a pair of sunglasses, the Leupold Becnara is far more than a simple pair of sunglasses. Calling them "performance eyewear" is more than a marketing ploy. These spectacles are far more than just sunglasses. They are some of the most comfortable and effective glare blockers you will ever slide onto your face.
ABOUT THE AUTHOR:

David Workman is an avid gun guy and a contributing writer to several major gun publications. As an NRA-certified instructor, David trains new shooters on basic handgun skills and CCW requirements and is a strong advocate for training as much as possible. "Real-life shootouts don't happen at a box range."
You may also enjoy these popular articles:


©MTC Holsters, LLC and CrossBreed Holsters Blog, 2022.
Unauthorized use and/or duplication of this material without express and written permission from this site's author and/or owner is strictly prohibited. Excerpts and links may be used, provided that full and clear credit is given to David Workman and the CrossBreed Blog with appropriate and specific direction to the original content.