One of the least enjoyable aspects of gun ownership is loading magazines. It's literally a pain in the…thumb. This is especially true if the magazines are new because the springs are the stiffest they will ever be. Even older magazines can be a pain to load
As a firearms instructor, I've had many a student complain that putting ammunition into the magazine is too hard, some of them saying it's why they don't practice shooting very much because it hurts too much just to load the gun. They're also afraid the feed lips of metal magazines will cut them, which I have seen happen. I always suggest a speedloader to lessen the strain on their hands.
Some semi-automatic pistols come with a device the manufacturer claims is a speedloader of sorts thrown into the box as a value-add ("Comes with a FREE speedloader"), but most of them don't work very well. They're either too complicated or simply aren't an improvement over using your thumb.
One speedloader I have discovered works exceptionally well is the UpLULA. The what, you say? Am I pronouncing that right? Yes, you are. It's a weird name. But it's an amazing device.
The UpLULA is a universal pistol magazine speedloader that works with almost any double- or single-stack magazine on the market. They don't claim that, but I have yet to come across any magazine it won't work on.
How is UpLULA better than other speedloaders?
What makes it so much better? For starters, it's universal, not confined just to the gun it comes with. Some of the manufacturer speedloaders only work on their guns. The UpLULA works on everything. Got a Glock? Springfield? Sig? Ruger? Some other double stack? Good to go. Single stack 1911? You just need to balance it a bit, but it works.
The main reason it works so well is the squeeze. Grip the UpLULA, squeeze the loader flange over the follower, and push the whole thing straight down. Now insert a round. Relax your squeeze, and the round stays put. Use the top round as your push point and repeat until the magazine is full.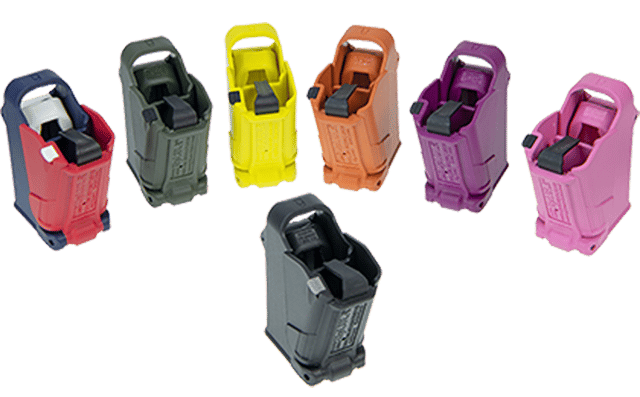 The UpLULA comes in seven colors, including bright fluorescent yellow, so that you won't lose it at the bottom of your range bag. I have three: one in each range bag and one in my safe at home, so I always have one handy no matter where I'm stuffing mags.
At $34.99, you can afford to keep one in each place you need it.
ABOUT THE AUTHOR:

David Workman is an avid gun guy and a contributing writer to several major gun publications. As an NRA-certified instructor, David trains new shooters on basic handgun skills and CCW requirements and is a strong advocate for training as much as possible. "Real-life shootouts don't happen at a box range."
You may also enjoy these popular articles:


©MTC Holsters, LLC and CrossBreed Holsters Blog, 2022.
Unauthorized use and/or duplication of this material without express and written permission from this site's author and/or owner is strictly prohibited. Excerpts and links may be used, provided that full and clear credit is given to David Workman and the CrossBreed Blog with appropriate and specific direction to the original content.