I've been experimenting with the Crossbreed modular holster for a few months now, and to say I'm obsessed would even be putting it lightly. There are so many ways to use this holster to carry concealed, when backpacking, and to have a gun easily deployable if you were ever to find yourself in a home defense situation. What I absolutely love most about this holster is because it is backed with Velcro, I can easily peel it off of the Pac Mat or Bedside backup and install it in a bag when I walk out my door, or vice versa. Within seconds, my holster and gun are set up for whatever I need my gun for.
5 Ways to Use the Modular Holster:
1. In the 5.11 LV6 Waist Pack 2.0
I'm a minimalist when I travel, and having a heavy bag or purse to tote around is not my style. I also always like to be hands-free when I'm walking in public so I can quickly draw a gun in seconds if needed, so the 5.11 LV6 Waist Pack is the perfect concealed carry bag for me. I set it up to clip around my waist and my right thigh. The bag sits comfortably on my hip and has two zippers on the left and right to easily unzip the bag from either side. Inside the main pouch is Velcro lining, perfect for setting up the modular holster and a concealed carry gun. I can also fit a spare magazine pouch with an extra mag. There's also a hidden pocket on the rear of the bag that is Velcroed together for quick access and easy storage. The front zippered compartment I keep my wallet and keys in, as well as a spare Chapstick because, well, it's essential. I love this bag, it's comfortable for all-day wear, and even with the P365XL, it easily conceals and zips closed.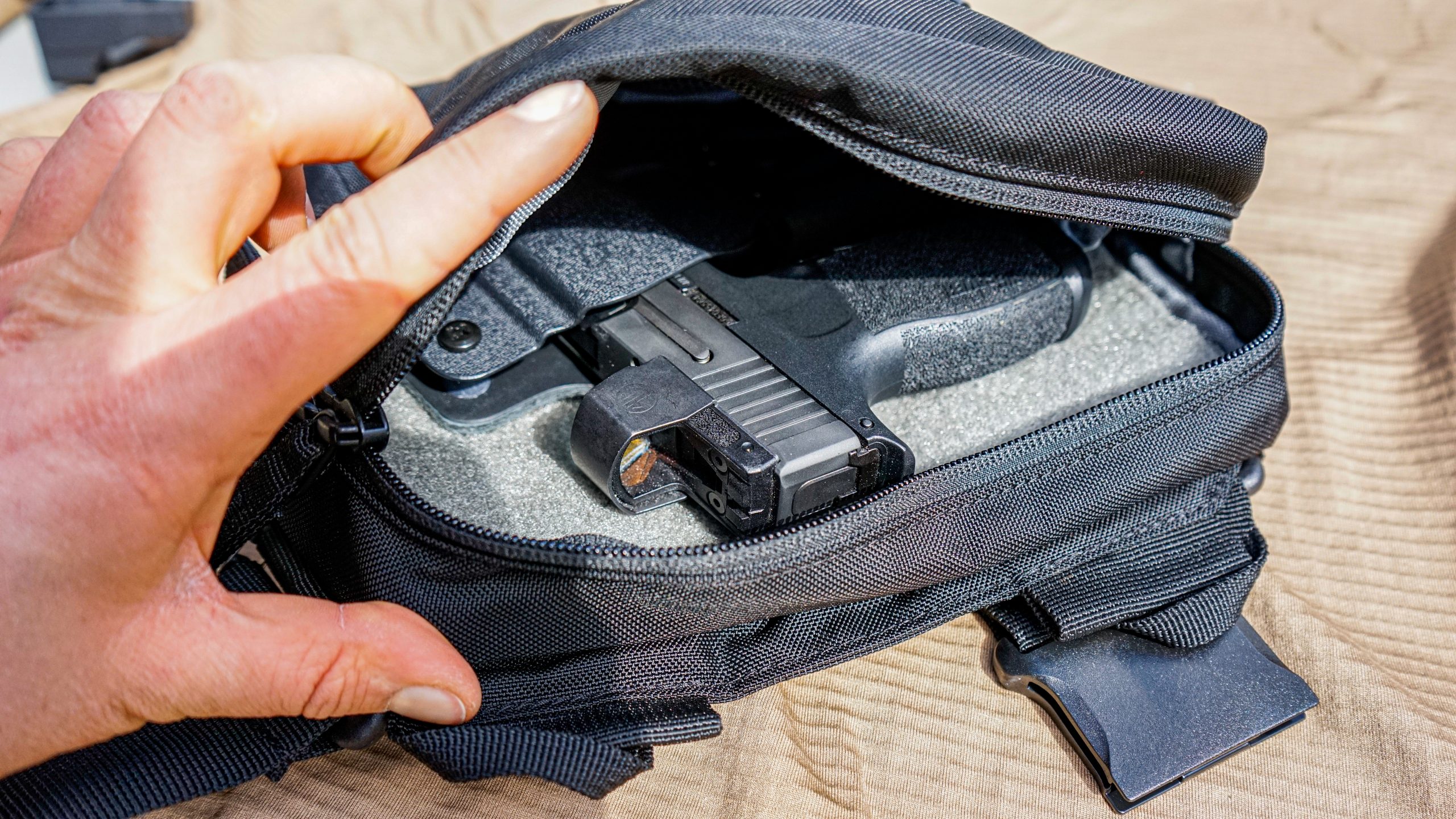 2. In a UUB Gear Phoenix Bag
I have been wearing two different bags with Velcro attachment lining regularly, depending on what kind of activities I'm doing, and one of those bags is the Phoenix bag from UUB Gear. This bag is essentially a small purse with a magnetically closed Velcro-lined pouch, two zippered pouches (one with more Velcro lining), and magnetic snap closure with two smaller zippered pouches on the outside of the bag. While the size looks small, it has all the storage space I need. In the magnetically closed pouch, I can install the modular holster to the Velcro lining and easily conceal my Sig Sauer P365XL, where all I have to do is grip the gun and pull upwards to release the gun from retention. It's a perfect draw angle in front of my right hand and rests perfectly on my right thigh. The entire bag straps around my thigh and waist, so when I draw upwards, the thigh strap helps retain the bag from pulling up with the gun.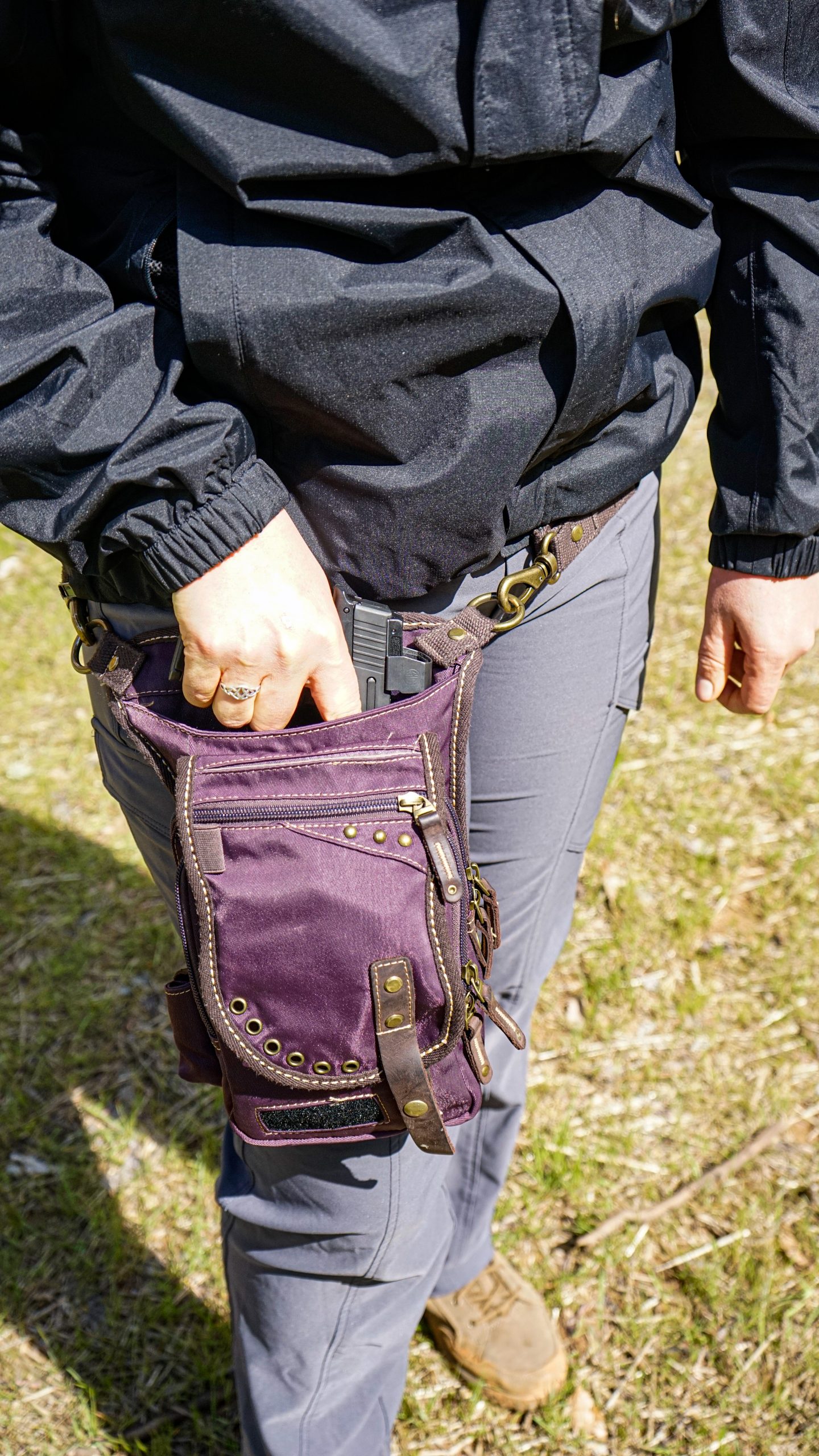 3. With our Pac Mat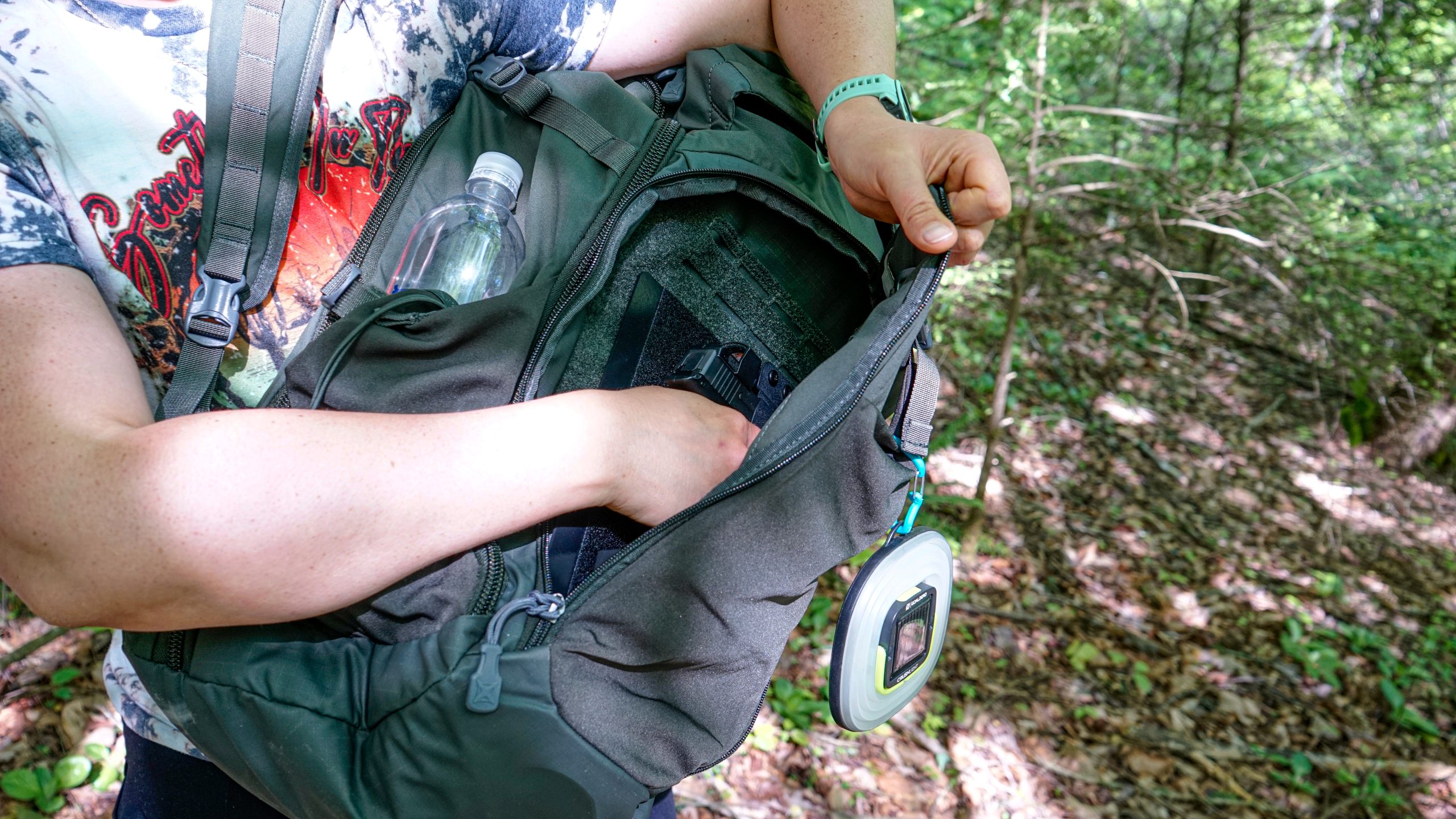 Off-body carry is not my preferred way to carry, but it is the only way I have found it's comfortable to backpack with a full pack on while hiking. I live near the Smoky Mountains, and I love to spend a day hiking or weekend backpacking in the woods. When you climb 6,000 feet in elevation in one day, Appendix or 4'oclock carry is not just impossible because of the hip straps, but it's downright uncomfortable. One of my favorite backpacking bags is the Overlander Backpack from Vertx, which I also use with a Premier Body Armor insert, and the Pac Mat from Crossbreed Holsters.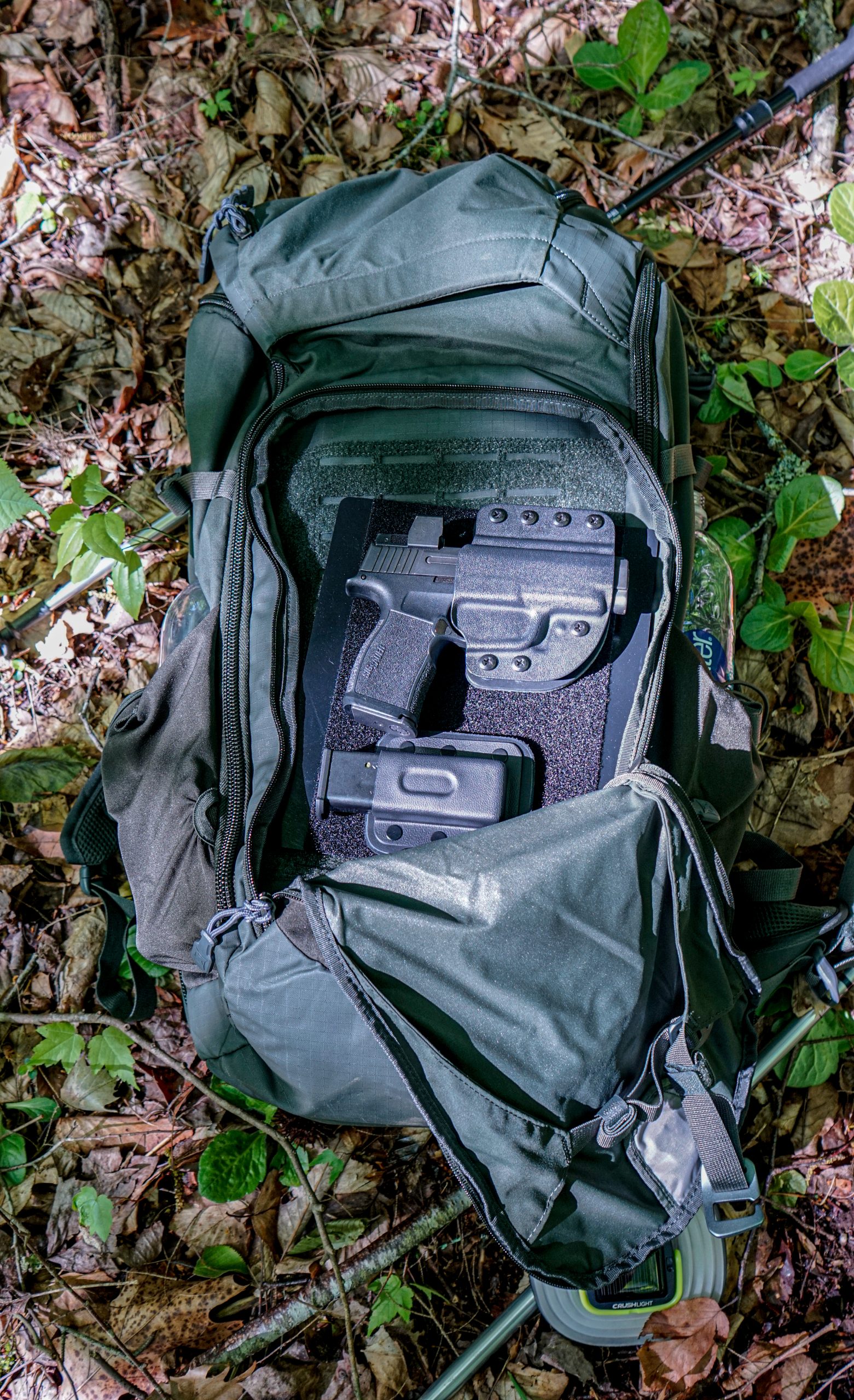 4. Hidden in Girls with Guns Clothing Primitive Puffer Vest
I recently was invited to Gunsite Academy in Arizona for a Ruger Rendezvous event sponsored by Girls with Guns Clothing. It was at that event that I was introduced to the Girls with Guns Clothing Primitive Puffer Vest and how this concealed carry garment utilizes the modular holster to conceal a gun inside the vest. For starters, this vest is extremely comfortable, zips down the front, and features two hand pockets and a smaller zipper pouch on the left breast. What is unique about this vest is there are two hidden compartments underneath both sides of the zipper with a lining of Velcro backing. These velcro panels are designed to work specifically with Crossbreed's modular holster, and because the lining is on both sides of the vest, it's great for cross-draw for both right-handed and left-handed shooters.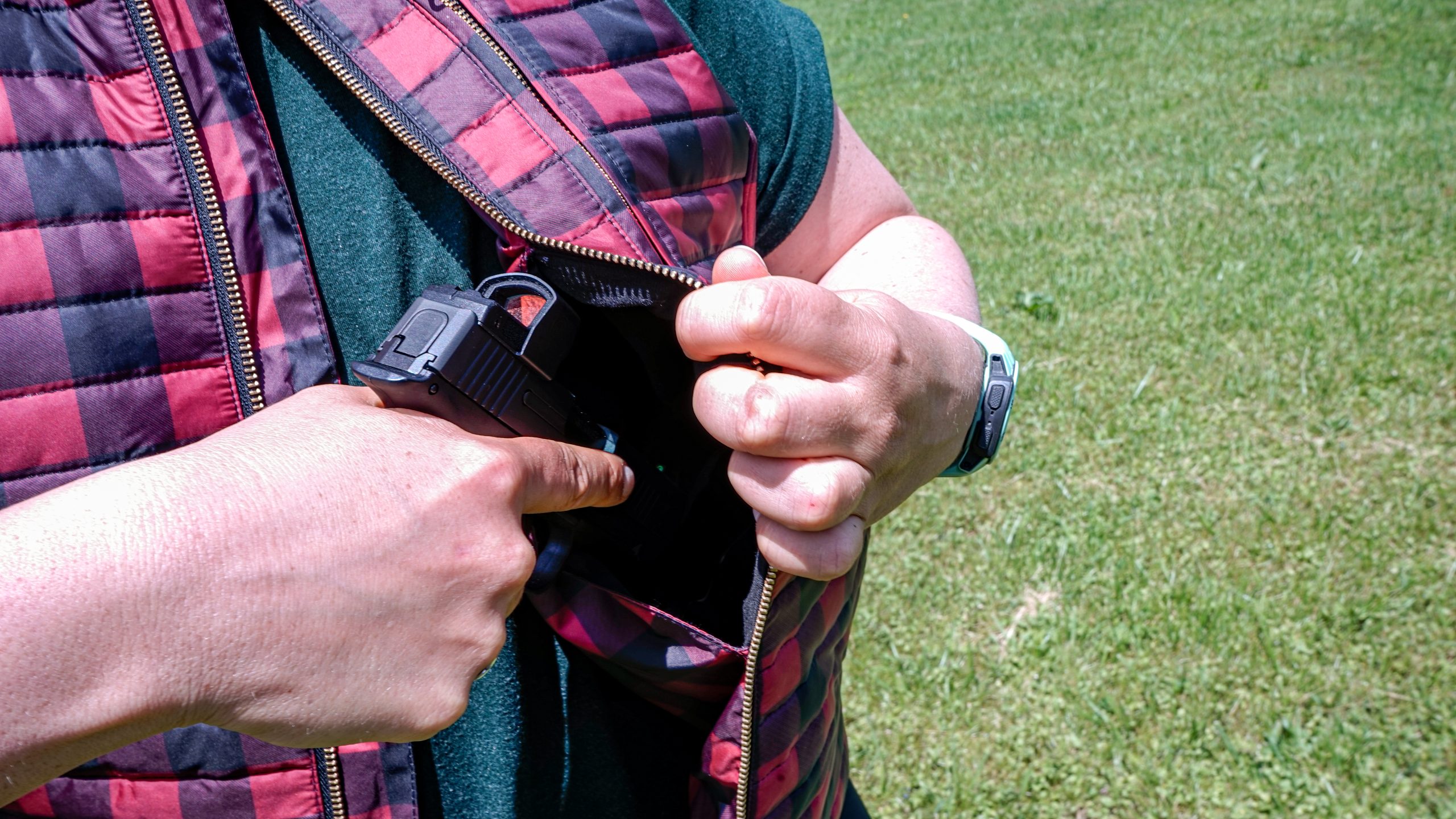 5. With the Bedside Backup
What most people don't think about is how vulnerable they are in their own homes. At any time, a home invasion or robbery could occur, and within seconds, you could find yourself being held at gunpoint. Where's your nearest firearm? A shotgun stored under the bed or a rifle stored in the corner of the room can be great home defense firearms, but a bedside pistol that is easy to unholster or grab in the dark is the easiest to maneuver around doors and walls. The challenging aspect is making sure the pistol is in the same place, within arms reach, and is already unholstered or has the holster attached to something so you can just grab the gun when needed. The bedside backup with Velcro solves all of these problems. The modular holster attaches to the Velcro, so all you have to do is unholster the weapon when needed. You can also include a spare magazine pouch and magazine on the bedside backup.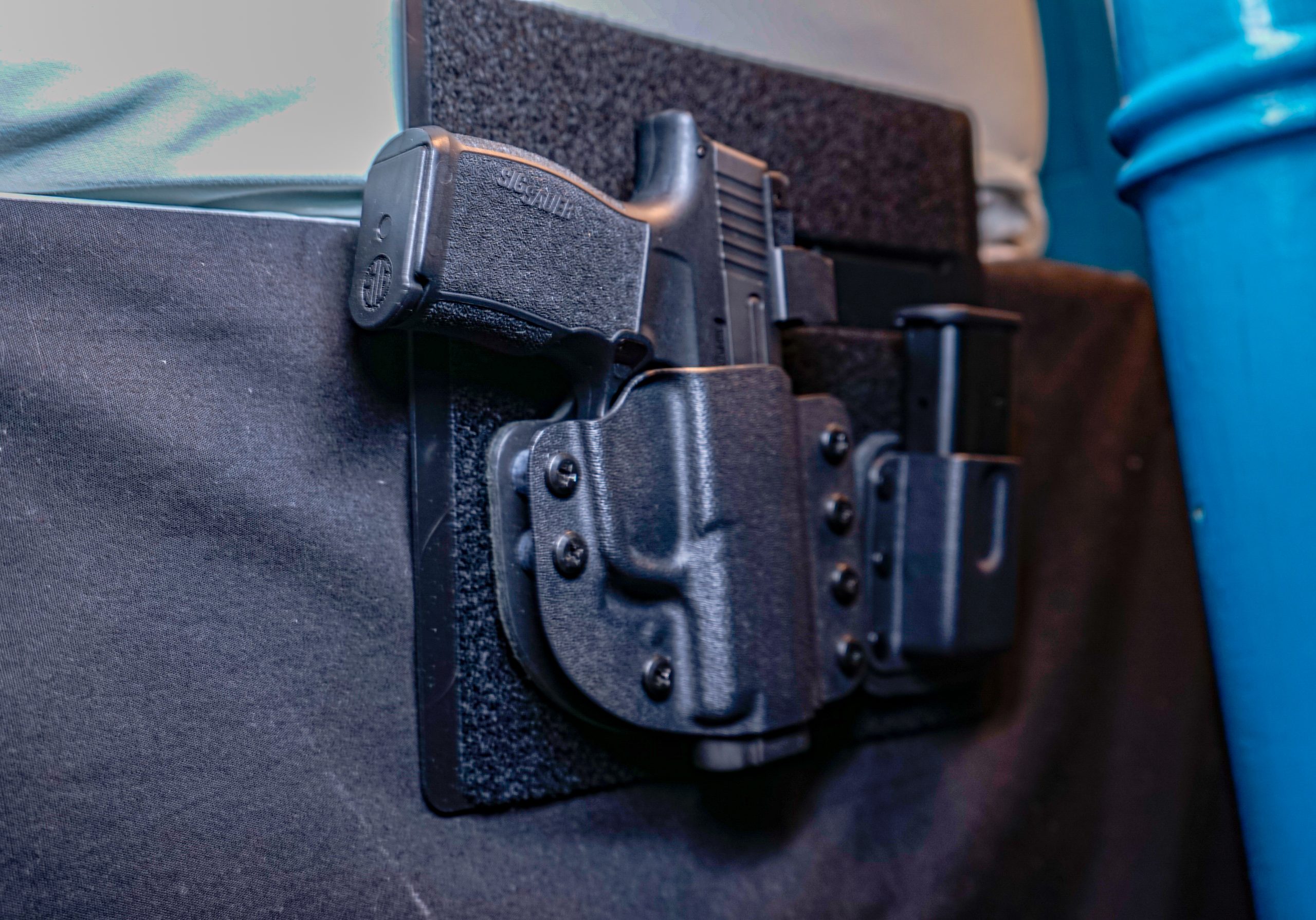 And So Much More!
What is essential about concealed carry is setting up the gun to you and being in a comfortable carry position. You have to be comfortable enough to wear the gun daily, or you won't continue to carry it. The modular holster is compatible with so many bags, clothing items, and gear; even my Tacoma has a Velcro lining in the driver and passenger seat areas. With this one holster, the possibilities are endless!
ABOUT THE AUTHOR
Kenzie Fitzpatrick is a professional competitive shooter and an active blogger for many firearm websites. As an NRA-certified instructor and National Range Officer Institute Chief Range Officer, Kenzie trains new shooters on basic firearm safety, brings new shooters to competitive shooting and works major matches across the country. She has a passion for teaching people how to carry concealed and is a positive ambassador for the Second Amendment. Kenzie is also the host of the Reticle Up Podcast, where she interviews competitive shooters, hunters, anglers, archers, entrepreneurs, and outdoorsmen.
You may also enjoy these popular articles:


©MTC Holsters, LLC and CrossBreed Holsters Blog, 2021.
Unauthorized use and/or duplication of this material without express and written permission from this site's author and/or owner is strictly prohibited. Excerpts and links may be used, provided that full and clear credit is given to David Workman and the CrossBreed Blog with appropriate and specific direction to the original content.