Is this P365 Hybrid a Frankenfirearm or the ultimate P365?
When SIG Sauer released the micro-compact P365, to say it was a game-changer would be a gross understatement. The firearm was so successful for SIG that there are now three variants of the weapon, the original P365, the bigger P365XL, and the P365 SAS. They share a common operating system, and they can share lots of parts and pieces.
This leads me to the idea of making the ultimate P365, and I like to call it the P365L, but you can call it whatever you want. It's the P365 frame, with the P365 XL slide. L stands for Longslide, of course, but it's effectively a P365 hybrid of sorts.
This P365 Hybrid takes the best of both worlds and gives me what I feel is a better overall gun. I think the configurable nature of the Sig Sauer P365 is a huge advantage to its design, and I'm surprised SIG hasn't come out with their own P365 Hybrid. There are tons of benefits.
The Benefits of the P365 Hybrid
First and foremost, the longer barrel and slide means I have a longer sight radius, which makes being accurate and precise much easier. On top of the longer sight radius, you also get the option to mount an optic with the Shield RMSc footprint. While I haven't mounted one yet, I am currently reviewing my optic options.
The other upside is a little more velocity, and that extra .6 of an inch isn't much, but every little bit counts, right? The longer and heavier slide will also help with muzzle rise and recoil. The longer isn't necessarily harder to conceal when you carry IWB. That portion of the gun is already hidden by your pants, so making it slightly longer isn't an issue.
The original P365 grip is easier to conceal than the P365 XL grip. On top of that, you can use all of the P365 magazines, including the ultra-short ten-round flush-fitting magazine. If you don't mind a longer grip, then you can go with 12 and 15 rounders. The P365 XL grip only allows you to use 12 and 15 round magazines.
Also, with my huge hands, the P365 grip is beyond excellent. It fits my grip so well that I don't need a longer grip.
The Downsides
There are three notable downsides. The first only applies if (like me) you've been carrying the SIG P365 for years because you'll need to move up to a P365 XL holster to accommodate this P365 Hybrid.
The second is a slight increase in weight. It's minimal, but every little bit counts, right? The extra length may be a downside if you carry OWB because it's more to conceal.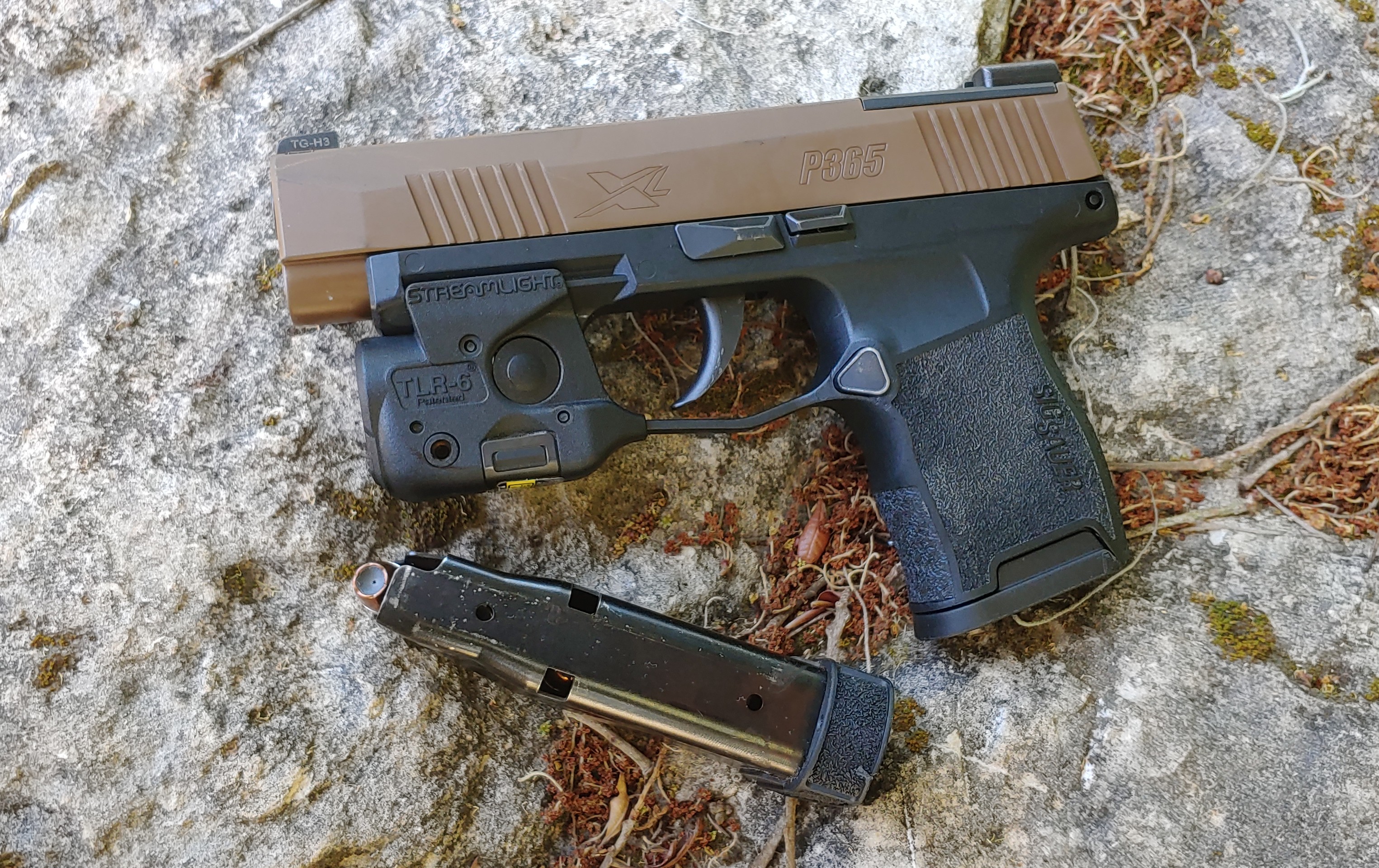 How It Comes Together in Real Life
The above is all theoretical until we slap a P365 XL slide onto a P365. I got my hands on an FDE P365XL slide, and it snapped right into place without issue. Interchangeability was never a concern. There was also zero reliability issues with this combination of frame and slide.
The longer sight radius made it easy to detect those micro-movements in the sights and ensures your deviations are smaller. Ultimately this gives you the ability to be more precise. I noticed a slight difference at extended ranges. At bad breath ranges, it's not necessarily noticeable.
My groups shrunk by about a quarter-inch at 25 yards. More so than that, the gun felt softer shooting. With your typical 115 grain FMJs, the difference wasn't noticeable, but when you stepped up to 124-grain +P JHPs, the difference was clear.

Shooting double taps, single hand drills, and from retention showed the biggest difference in recoil controllability. That little extra bit of barrel helps more than I first thought. The P365 was already easy to control; the P365 Hybrid is just a little bit easier.
Firing weak side has always been something difficult for me, so the fact it's a little easier with the P365 hybrid is a big deal to me. It addresses a specific weakness I have and helps fix it.
The P365 Hybrid
Once I decide which optic works best for my needs, I plan to add one but until then, the longer sight radius increases control and the cool two-tone color factor makes this P365 Hybrid perfect for my new carry gun.
This route is an expensive one to take and I hope SIG eventually releases this as a standard model. The idea isn't new, and custom gun manufacturers have been doing grip chops for years on bigger guns. It seems like common sense for SIG to produce their own P365 Hybrid, but only time will tell.
ABOUT THE AUTHOR:

Travis Pike is a former Marine Machine gunner who served with 2nd Bn 2nd Marines for 5 years. He deployed in 2009 to Afghanistan and again in 2011 with the 22nd MEU(SOC) during a record-setting 11 months at sea. Travis has trained with the Romanian Army, the Spanish Marines, the Emirate Marines, and the Afghan National Army.
He serves as an NRA certified pistol instructor and pursues a variety of firearms based hobbies.

You may also enjoy these popular articles:

©MTC Holsters, LLC and CrossBreed Holsters Blog, 2020.
Unauthorized use and/or duplication of this material without express and written permission from this site's author and/or owner is strictly prohibited. Excerpts and links may be used, provided that full and clear credit is given to Travis Pike and the CrossBreed Blog with appropriate and specific direction to the original content.