North American Arms makes these absolutely adorable mini-revolvers. In fact, I'm pretty sure they call them derringers. In all fairness, they are roughly derringer size but are five-shot mini-revolvers. I've always wanted one. Not for any real need, but because I've always thought they were neat and impressed by their quality. I finally put my foot down and purchased an NAA Mini Revolver.
As I shot it, I began to think about the weapon from a defensive standpoint. Is there such a thing as a gun that's too small? I wouldn't carry an actual derringer because they offer at most two shots, but what about something that's as small as a derringer but offers five shots? I've carried J-frames that offer only five rounds, so the capacity isn't the issue, but is the gun just too small to use effectively?
While I never intended to use my NAA Mini Revolver for defensive shooting when I went to the range with a defensive training mindset to find out.
Breakdown of the NAA Mini Revolver
There are tons of NAA Mini Revolvers these days. In fact, there are some with 4-inch barrels that aren't quite mini anymore. These guns have become curiosities more than anything else. They got top breaks and swing-out cylinders these days. I have the most standard model out there. It's the simple .22 Long rifle version. It's literally just called the NAA .22 Long Rifle.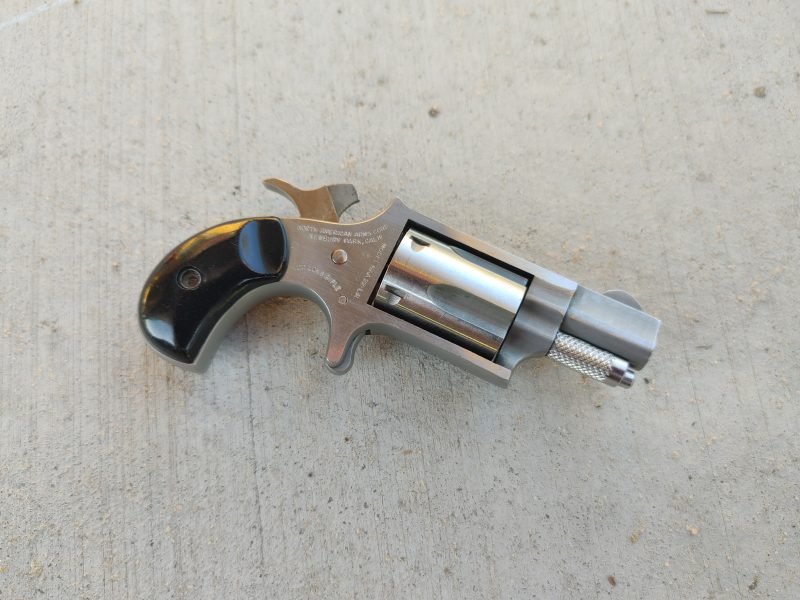 Shooters have to remove the cylinder to unload and load this model. It's a single-action-only gun with a barrel length that measures only 1 1/8 inches. It's 4 inches long overall, weighs 4.6 ounces, and is 2.38 inches tall. It's an incredibly small revolver that implements a manual hammer and does away with a trigger guard. The grips are a bird's head design you'd find on a derringer.
At the end of the barrel is a simple front sight I like to think is optimistic. The gun lacks a transfer bar and instead allows the hammer to rest on a safety notch. This prevents the hammer from touching the rim of the round until the weapon is cocked. This makes it safe to carry without the worry of a bump ignition.
To the Range
I brought with me a man-sized target, as well as a smaller B8 style target and a handful of various .22LR loads. I brought a handful of Federal Punch, a self-defense .22LR load designed for ultra-short barrels. I started at seven yards and tried to see what accuracy the weapon was capable of.
I hate the term belly gun. I feel it's often applied to guns unfairly by people who don't know how to shoot. However, in my hands, the NAA Mini Revolver is a belly gun. I say my hands because my hands are large. I wear 2XL-sized gloves, and they are often a little tight. I actually couldn't see the sight when gripping the gun.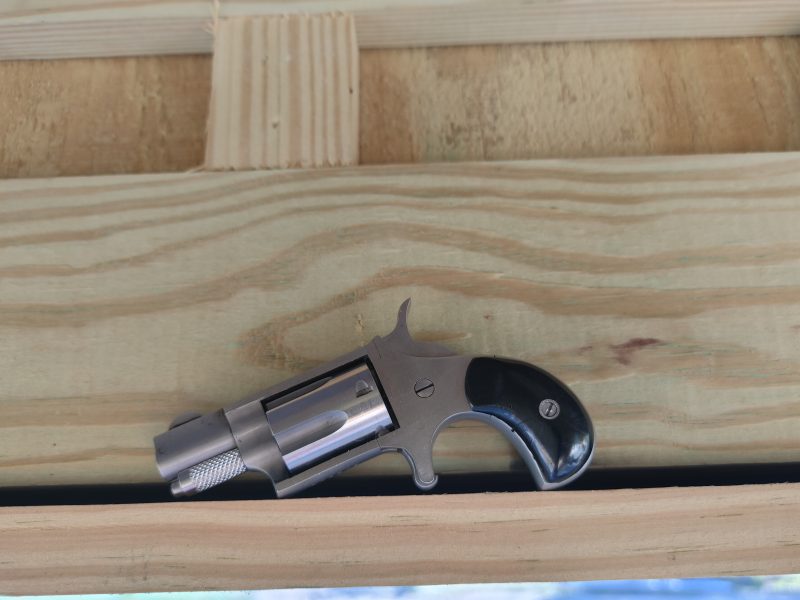 I couldn't seem to get a good grip and see the sight at the same time, so accurate shooting wasn't easy to achieve. Bigger grips would help, but they also defeat the purpose of a gun this small. With intentional slow fire and anemic .22LR loads, I could hit the B8 target.
I couldn't always hit the black or consistently group the gun, but I could hit it. With a man-sized target, I could essentially point-shoot at this range and put something in the torso of the threat. I could it reasonably fast, but with a single action-only design and ultra-small controls, I wasn't blazing away with the NAA Mini Revolver.
Blasting Away
Even in guns this small and light, the recoil isn't significant. It's not painful by any means. However, the hotter Federal Punch loads and similar high-velocity .22LR offered enough buck to make the gun shift in your hands. The ultra-small grip doesn't provide much purchase on the gun, and even a small amount of recoil can cause a shift.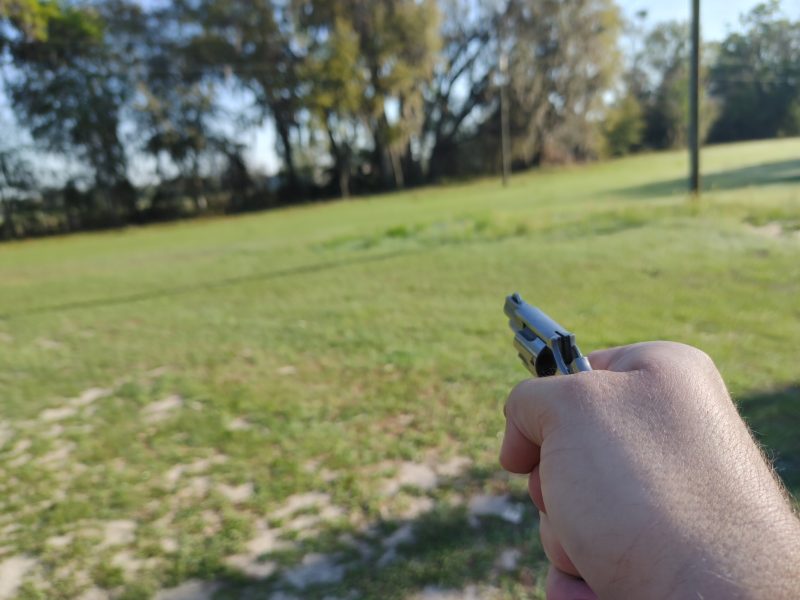 This makes shooting defensive ammo quickly and accurately impossible. Quick with the NAA is relative to its design. This NAA Mini Revolver isn't a gun you should plan to reload with. To reload, you have to remove the pin that holds the cylinder. Then remove the cylinder and use the pin to punch out the individual rounds.
Finally, drop the new rounds in, reinsert the cylinder, and reinsert the pin. It can take a couple of minutes to achieve this. It's not going to be done in a gunfight.
Too Small?
The NAA Mini Revolver is too small for me. I can't shoot it well or fast. It is quite reliable and gave me no issues with any ammunition I put through it. I would rather have the NAA Mini Revolver than not if it was my only choice. I would never intentionally choose this weapon as my main carry gun. It's just too small and too hard to shoot well. I don't mind the .22LR as a defensive cartridge in microsized guns.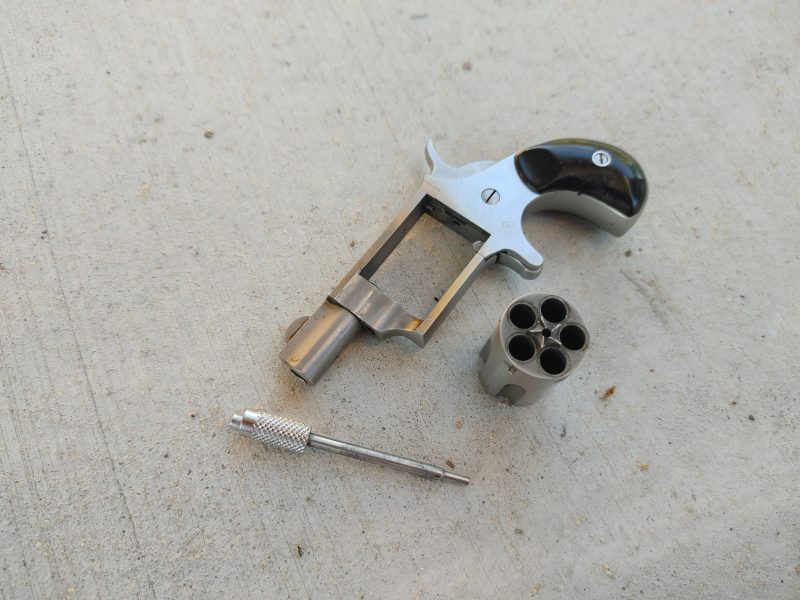 I can see this being a last-ditch choice if I needed to carry in a Speedo, but outside of a very niche use case, it's not for me. I do enjoy it, though. I love how well-made it is, and there is clear attention to detail and quality with the gun. I think I'll carry my 9mm PF940SC. It's a unique novelty that shows just how small a repeating firearm can be.
ABOUT THE AUTHOR:

Travis Pike is a former Marine Machine gunner who served with 2nd Bn 2nd Marines for 5 years. He deployed in 2009 to Afghanistan and again in 2011 with the 22nd MEU(SOC) during a record-setting 11 months at sea. Travis has trained with the Romanian Army, the Spanish Marines, the Emirate Marines, and the Afghan National Army.
He serves as an NRA-certified pistol instructor and pursues a variety of firearms-based hobbies.

You may also enjoy these popular articles:


©MTC Holsters, LLC and CrossBreed Holsters Blog, 2022.
Unauthorized use and/or duplication of this material without express and written permission from this site's author and/or owner is strictly prohibited. Excerpts and links may be used, provided that full and clear credit is given to Travis Pike and the CrossBreed Blog with appropriate and specific direction to the original content.