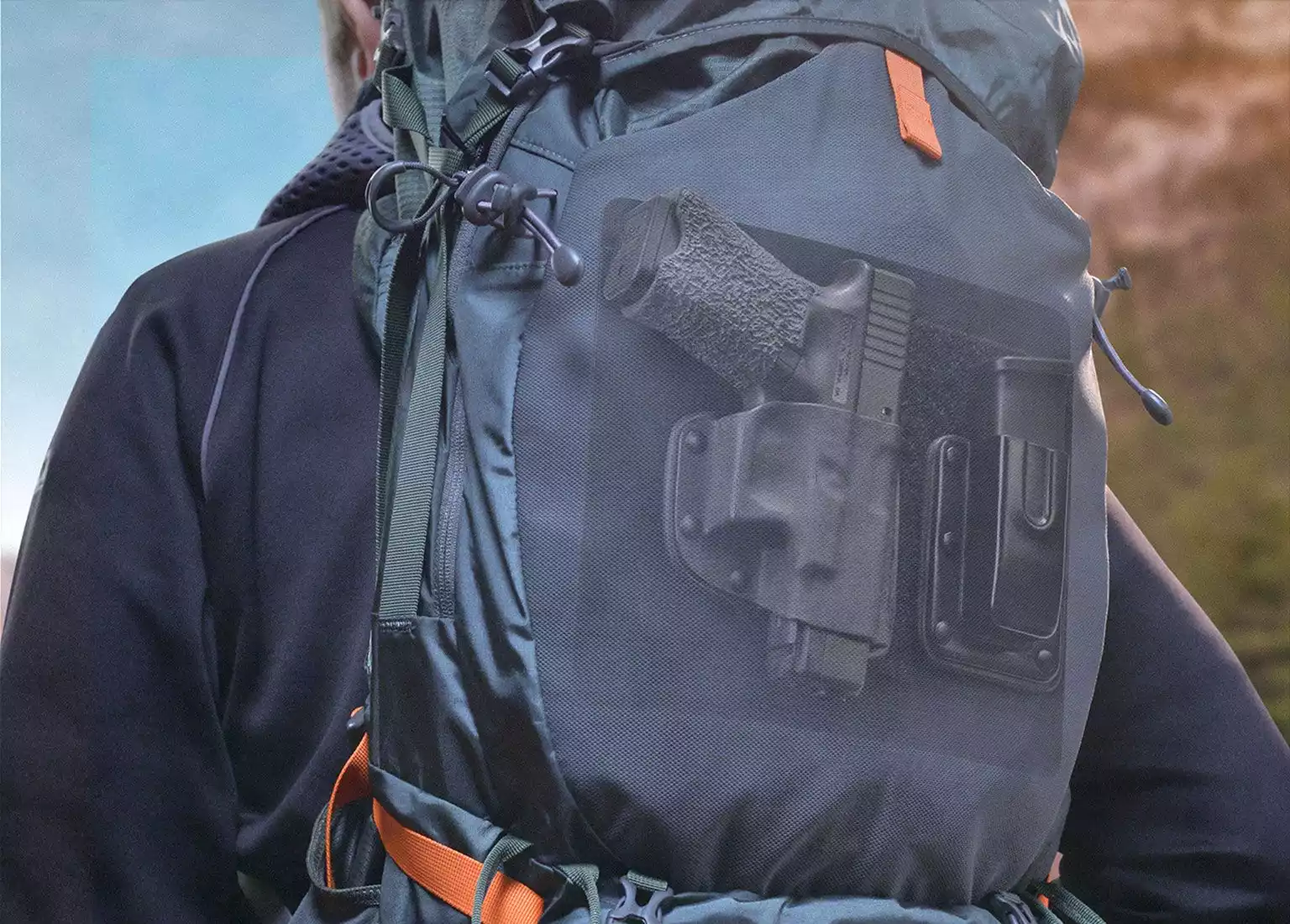 How do you legally and safely carry a self-protection gun in the great outdoors?
Carrying a gun outdoors while hiking, backpacking, fishing, and doing other activities can be a challenge, but it's doable. Predators — both the animal and people type — look for vulnerable people and the right time to strike. They commonly will target solo hikers or travelers or anyone unprepared who may have only just let their guard down.
Depending on where you'll be spending time outdoors, always check to see if concealed or open carry is legal, or if you don't have your permit yet, plan to carry other weapons. Like many tactically-minded folks, I live by the phrase, "Two is one and one is none." For me, I like to carry a spare magazine or two, two knives at minimum, a tactical pen that doubles as a weapon, a multitool, and a medkit. No matter your height or weight, it is possible for you to have all of this on your body and more.
Since many outdoor activities involve heavy movement, it can be a challenge to retain or conceal a pistol, but there are a few unique ways to make it work. Clothing choice will play a big role as well in carrying a gun outdoors because most outdoor activities are done in yoga pants, hiking shorts, basketball shorts, and other activewear that do not feature belt loops or have the support to carry the weight of a gun. While I prefer carrying on-body, there will be some scenarios where carrying off-body is the only option, but that doesn't mean other weapons can't be on-body.
Options for Carrying a Gun Outdoors
Belly Band
A belly band setup is like a toolbelt for weapons. Ladies especially struggle when their athletic clothing doesn't have any pockets. A belly band can retain a holstered gun comfortably and allow for a backup magazine to be carried, can support a flashlight, conceal knives, and even feature a loop for your cell phone. A belly band has endless possibilities based on your needs. It can adjust to different waist sizes and be mounted higher on the body by wrapping the band tighter.
Chest Rig
An old-school style that still serves its purpose is a chest rig. Chest rigs have been around for years and used by cattlemen, farmers, anglers, police officers, and have proven their ability to retain a loaded gun. If you plan to be carrying a gun outdoors for long periods of time and in rain, snow, or shine, find a chest rig that has either good retention or adjustable retention and is comfortable against your skin.
Pac Mat
Most likely if you're headed off to hike in a national park, kayak down a river, or rock climb, you'll be carrying a backpack, bug out bag, or some sort of pack with supplies, car keys, wallet, etc. One of the most dangerous things about putting a gun in a bag or purse is the ability for a pen, a lipgloss bottle, and another object to get lodged inside of the trigger guard and fire the gun. Always have a dedicated pocket of your pack for your firearm and ensure that the gun is secured in a position for an easy draw when you need it most.
Carrying a Gun Outdoors: What's Legal?
Like most Americans, we spend time hiking, backpacking, camping, white water rafting, fishing, and more while we are on vacation. This means that most likely you're not in your home state. It is your responsibility to know what is legal before you go.
One of the best resources to check is the National Park Service website for what is legal. On February 22nd, 2010, Congress approved a law allowing loaded firearms in national parks to include handguns, rifles, shotguns, and other firearms. People can carry openly or concealed only as allowed by state statute. This only applies to legal firearms and citizens who are legally allowed to possess firearms in accordance with the laws of the state in which a park is located.
Now, where that can become tricky is when parks are located in multiple states. There are parts of the Smoky Mountains, for example, that are in North Carolina and Tennessee. In Tennessee, constitutional carry has passed for Tennessee residents, but in North Carolina, it is permit carry only which would require a Tennessee resident to have a handgun permit that is honored by the state of NC. Knowing where you will be hiking in the woods is important so you aren't breaking laws.
It is never legal to carry into any federal building, and this includes USPS offices. Many people hiking through states on long trails will stop to check their mail or send postcards, so it's important to remember to not bring your gun into these buildings. It is a federal gun violation, so the local and state laws can't help on this one.
Conclusion
Never sacrifice your safety for an activity where it's possible to carry a gun. It may not be the most comfortable thing in the world, but it could save your life. There are no safe places left, so always be prepared.
ABOUT THE AUTHOR
Kenzie Fitzpatrick is a professional competitive shooter and an active blogger for many firearm websites. As an NRA-certified instructor and National Range Officer Institute Chief Range Officer, Kenzie trains new shooters on basic firearm safety, brings new shooters to competitive shooting, and works major matches across the country. She has a passion for teaching people how to concealed carry and is a positive ambassador for the Second Amendment.
You may also enjoy these popular articles:


©MTC Holsters, LLC and CrossBreed Holsters Blog, 2021.
Unauthorized use and/or duplication of this material without express and written permission from this site's author and/or owner is strictly prohibited. Excerpts and links may be used, provided that full and clear credit is given to David Workman and the CrossBreed Blog with appropriate and specific direction to the original content.