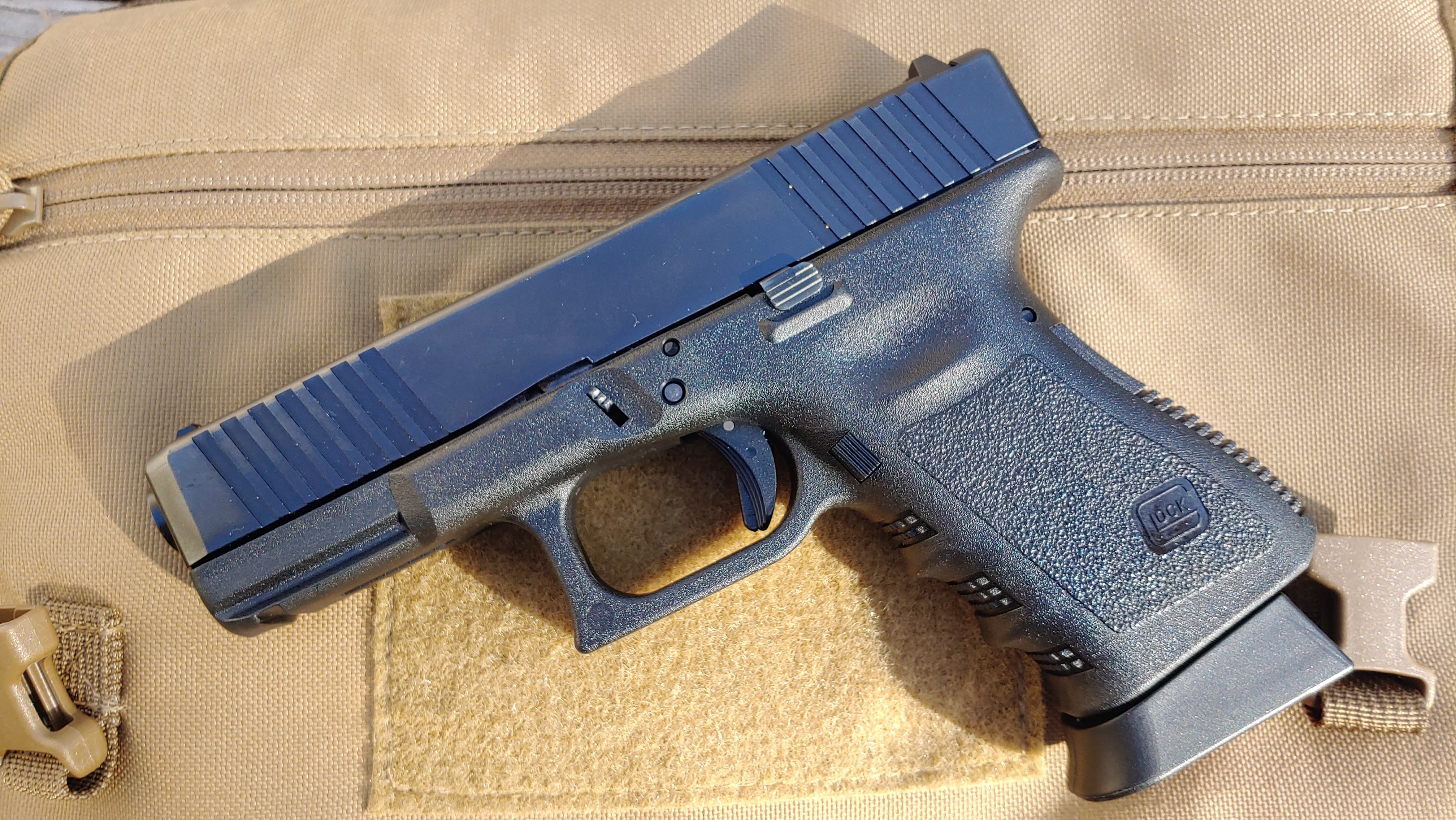 FIVE… because one Glock 19 upgrade simply isn't good enough.
The Glock 19 is a fantastic gun. Considered the flagship firearm of Gaston's stable of polymer pistols, the compact G19 is a favorite among concealed carriers and one of the most popular handguns in America.
Popularity breeds an aftermarket, and aftermarket brings products to upgrade those popular firearms. Aftermarket accessories for Glock pistols and the Glock 19 specifically are innumerable so we've selflessly sifted through them to identify five of the best ones just for you (and you're welcome).
How do you make a good pistol great? Here are the Top Five G19 Upgrades that successfully (and easily) accomplish just that:
Metal Sights
As much as I love Glocks, I'm not enamored with their included plastic sights. Polymer frames are great, but polymer sights are hard to depend on. My first upgrade is always a new set of metal sights and right now, my current favorite is an Ameriglo front sight with a Vickers rear battle sight. This combination creates a pistol with an all-black rear sight and a high visibility night front sight. The contrast makes fast work of acquiring your sight and getting on target. 
Glocks are so insanely popular, sight options are everywhere. Notable models include Trijicon Fiber Sights, Ameriglo I Dots, and Tru Glo models. They are dependable, straightforward, and well made. If I were to make only one Glock 19 upgrade, it would be new sights.
Thankfully, I'm not limited to just one upgrade – so on we go!
Apex Trigger
The Glock factory trigger isn't bad, but it's not great either – it's a solid 'meh' in my book. The good news is that anyone can easily make it great with a simple swap for a quality trigger. The Apex Tactical trigger is designed to refine the Glock trigger by lightening up and improving the trigger pull. 

Courtesy Tyler Kee, The Truth About Guns
It's a tactical trigger that doesn't compromise the Glock Safe Action design or provide too light of a trigger. The Apex Tactical trigger pushes the Glock 19 to its full potential, allowing you to be faster and more accurate. 
Griffin Armament Micro Compensator
Big 'ole honkin' compensators on carry guns like the Glock 19 make about as much sense as a boat anchor in a car. While they both have a purpose, they don't work together. The Griffin Armament Micro Compensator is different. It's only a hair more prominent than a thread protector but provides a great deal of recoil and muzzle flip reduction.

Installation is effortless and completed with a 16mm wrench. This little compensator is aimed at defensive handguns and minimizes the size and length as much as possible. The performance per ounce ratio is quite high, and you'd be shocked at how useful this simple addition is. It does require a threaded barrel, but get yourself one because this is one upgrade you will not regret! 
The TLR-7
The Streamlight TLR 7 is one of the first lights designed for compact handguns with an accessory rail like the Glock 19. The light sits flush with the Glock 19's design and resists adding bulk and too much weight to the compact pistol. This is likely the easiest Glock 19 upgrade you can make.

The TLR-7 packs 500-lumens of light that outshines most weapon-mounted lights. This mighty light is the perfect accessory for anyone but especially those whose Glock 19 pulls double duty as a home defense firearm. Don't forget to make sure you have a good holster to accommodate a light equipped gun, too!
A Mini Magwell from Magpul
Magpul makes lots of solid gear for the Glock series pistols and one easy upgrade is their GL Enhanced Magwell. This simple Glock 19 upgrade makes your magwell more like a funnel, resulting in more intuitive and faster reloads. 
Magwells are popular on competition guns and often rather massive, which is fine for competition but definitely not for concealed carry guns. The Magpul Enhanced Magwell is a small, useful upgrade that doesn't add bulk to your weapon and allows for faster reloads. 
Glock 19 Upgrades: Beyond the Five
These are upgrades you can easily do at home and while this isn't a complete list, it's a good start. If you're looking to make any beefier changes, reach out to a professional gunsmith to learn about your options for slide milling, stippling, undercuts, and more. You can swap the whole Glock 19 upper parts kit out. 
Always remember that with every new upgrade, you should also add in more training to ensure your shot is keeping up with the changes. Have you tried any of these upgrades on your Glock 19 or another handgun? What's your favorite after-market accessory or upgrade?
Sound off in the comments, we want to hear from you!
ABOUT THE AUTHOR:

Travis Pike is a former Marine Machine gunner who served with 2nd Bn 2nd Marines for 5 years. He deployed in 2009 to Afghanistan and again in 2011 with the 22nd MEU(SOC) during a record-setting 11 months at sea. Travis has trained with the Romanian Army, the Spanish Marines, the Emirate Marines, and the Afghan National Army.
He serves as an NRA certified pistol instructor and pursues a variety of firearms based hobbies.
You may also enjoy these popular articles:


©MTC Holsters, LLC and CrossBreed Holsters Blog, 2020.
Unauthorized use and/or duplication of this material without express and written permission from this site's author and/or owner is strictly prohibited. Excerpts and links may be used, provided that full and clear credit is given to Travis Pike and the CrossBreed Blog with appropriate and specific direction to the original content.