Part 1 of this series discusses the general things you need to know about 3-gun. In this part 2, I will discuss popular gear used by 3-gun competitors.
Dissident Arms – KL-12 Race Shotgun
Dissident Arms provides premium shotguns and rifles for both tactical and competitive uses. They specialize in the Molot VEPR-12 shotgun. Their KL-12 shotgun is one of the most popular shotgun options in the 3-gun open division. 
The KL-12 is a magazine-fed (box-fed) shotgun. It allows you to shoot more rounds with less reloading when compared to a typical tube-fed shotgun. There is an upward trend of more people competing in open division with magazine-fed shotguns. Competitors using magazine-fed shotguns tend to spend less time reloading and more time, doing what we all love, shooting. 
Competitors who use a Dissident Arms shotgun always have positive comments on recoil management, recoil impulse, recoil control, and the likewise. When a firearm, like the KL-12, can absorb some of the recoil, a competitor has an easier time transitioning from target to target. This allows the competitor to move through a 3-gun stage with ease and speed.
Cost: $4,100.00 – $4,500.00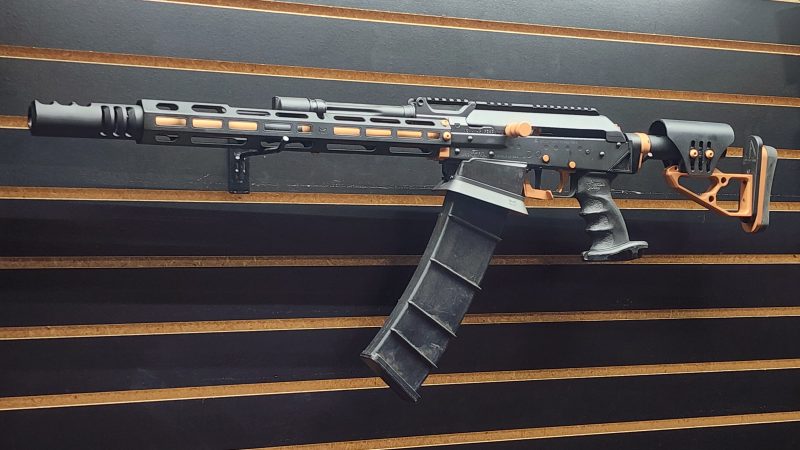 JP Enterprises – Silent Capture Spring
JP Enterprises Silent Capture Spring reduces the rough grinding sound and feeling when shooting an AR-15 or AR10. They have perfected a buffer spring system that eliminates any sound or grinding you may hear or feel when charging or firing a rifle with a silent capture spring installed. This silent capture spring is adjustable and can be reconfigured to your own specifications. This allows you to tune your 3-gun rifle to perfection.
Cost: $139.95 – $218.95
Weber Tactical – Gamer Belt
Weber Tactical's Gamer Belt is an amazing belt for any competitive shooter's setup. It is made from thick kydex wrapped in rubber. This gives the belt a softer feel while still maintaining its rigidity. While most belts are traditional Velcro wrap-around styles, the Gamer Belt utilizes an aluminum ratchet system to tighten and loosen the belt. The ratcheting system allows the user to put on and take off the belt quickly.
For a quick set-up, slide on your holster and mag pouches wherever you need them. For a customized set-up, drill and fasten an ELS kit (or similar) wherever you see fit. The Gamer Belt is the most versatile belt option for 3-gun competitors.
Cost: $64.97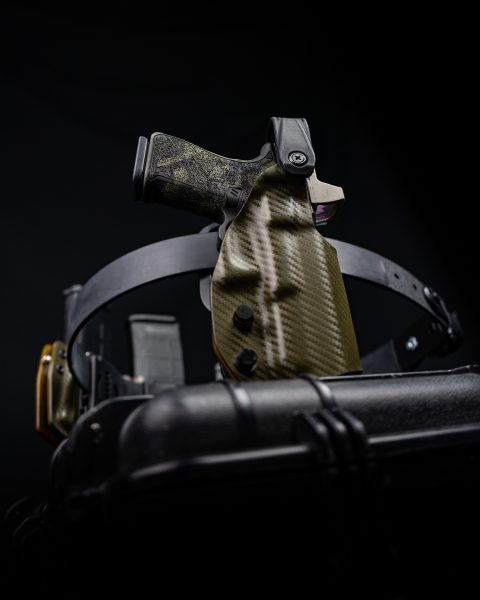 Recap
Having the best gear for competitions isn't always necessary, but finding the best gear that works for you is. If you are struggling with loading your shotgun on the clock during a 3-gun competition, investing in a box-fed shotgun may be necessary. If you dislike the rough sound your rifle makes and you're looking for a smoother feel when charging/cycling your AR, investing in a Silent Capture Spring may be the solution. And if you're constantly readjusting your traditional Velcro wrap-around belt or if the belt keeps falling off, you may want to consider investing in a high-quality Gamer Belt from Weber Tactical.
It is important to find and use the gear that best suits your own needs. Be open to suggestions from other competitors and use some trial and error. If you find out you don't like a certain product, for whatever reason, our growing community of competitors is always looking for gently-used products. What may not work for you, may work for someone else. 
ABOUT THE AUTHOR:
Meaghan Roble is an anti-gunner turned gun activist. She is a USCCA-certified instructor and an NRA-certified range safety officer. Meaghan is an A Girl & A Gun Chapter Facilitator and the Wisconsin State Director for DC Project. She owns her own Firearms Training & Education business, Roble Defense, and enjoys sharing her knowledge and experience with others.
You may also enjoy these popular articles:


©MTC Holsters, LLC and CrossBreed Holsters Blog, 2023.
Unauthorized use and/or duplication of this material without express and written permission from this site's author and/or owner is strictly prohibited. Excerpts and links may be used, provided that full and clear credit is given to the CrossBreed Blog with appropriate and specific direction to the original content.