I love .22LR handguns and by extension, other rimfire handguns. The low price of ammo, low recoil, and how easy they are to suppress makes them a joy to shoot and shoot often. I have tons of rimfires 22s, and I'm always looking to add another to my collection. With that in mind, I've been peeking at the ever-growing market of .22LRs and examining new .22LR handguns by the bucketful. With that in mind, it made me think other rimfire fans have to be out there, right? Are they looking for the best new .22s?
With that in mind, I've gathered what I think are the five best new .22s on the market. It's mostly .22LR, but magnum is welcome here too. Let's see what rimfires are on my list, and maybe they've made it to your list.
SIG P322
The SIG P322 was an immediate purchase for me, and I immediately fell in love with it, and so did my oldest son. He finished his first NRA marksmanship qual with the P322, and it's his favorite handgun. The little P322 is not a P320 or P365 clone but its own thing. The gun is in that Glock 19-sized category. The magazine holds an impressive 20 rounds in the flush fit magazine.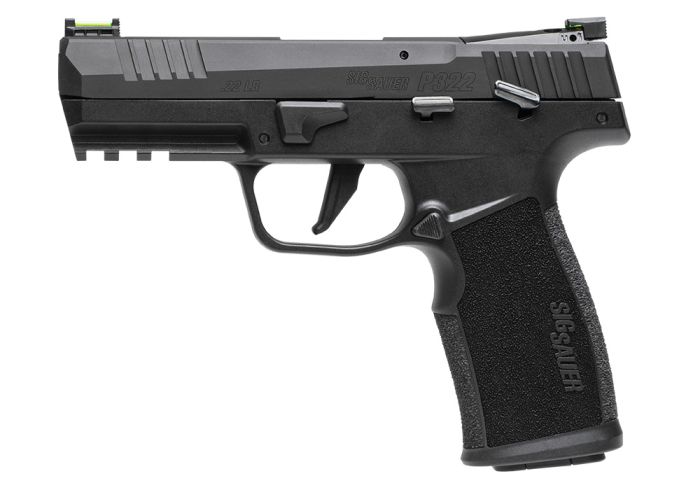 Shooters also get two magazines and a magazine loader which I really like. The P322 also comes with a straight and curved trigger that you can swap at will for whichever you prefer, as well as a threaded adapter to make it easy to suppress if you so choose. Not to mention like any other modern gun, you can attach a red dot! It uses the Shield RMSc footprint, so there are plenty of options out there.
The P322 is a fun little gun that's packed with features and is quite affordable right out of the box. The P322 won't break the bank either. If you want a general pistol for plinking, training, or something similar then the P322 is for you.
Standard Manufacturing Switch
On the self-defense front, the Standard Manufacturing Switch is an ultra-small folding revolver. It's certainly inspired by the NAA Mini Revolvers, but certainly not a copy of them. This small five revolver comes in either .22LR or .22 Magnum and is oriented to be a deep carry revolver for concealed carry. Is it optimal for self-defense? No, but it's better than harsh language.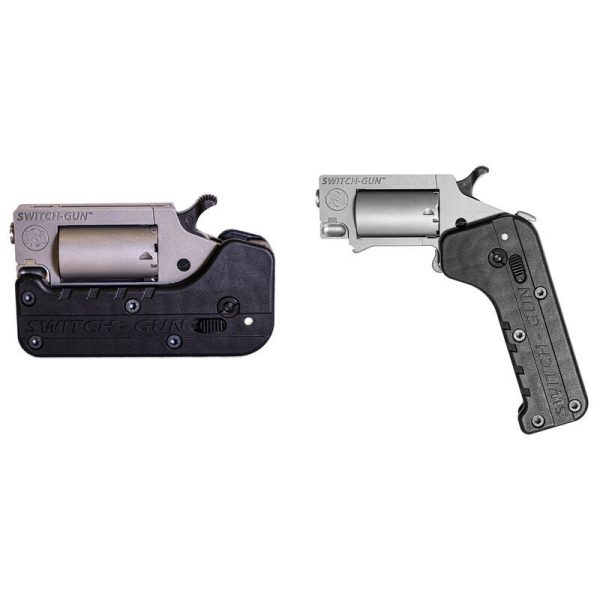 The Switch folds into its grip, and the gun's grip doubles as a holster. To release the gun, users press a button, and it leaps out of the grip and into a ready position. This action is a lot like a switchblade, and the gun pops open and is ready to fire in a flash. The design uses a single-action trigger and a manually cocked hammer.
It's simple, with an ultra-short barrel and trench sights across the top of the gun. It's not a long-range shooting weapon, or even a moderate-range option. In fact, it's one of the few true belly guns out there, and it's one of the best new .22s for self-defense purposes.
Taurus TX22 Compact
Brand new for 2023 is the Taurus TX22 Compact. The Taurus TX22 series has been quite successful for Taurus and are an excellent weapon for not too high a price. The TX22 compact just shrinks things a bit to make it a bit friendlier for carry and lighter for younger shooters. The carry aspect could mean concealed carry, as the .22LR can get it done.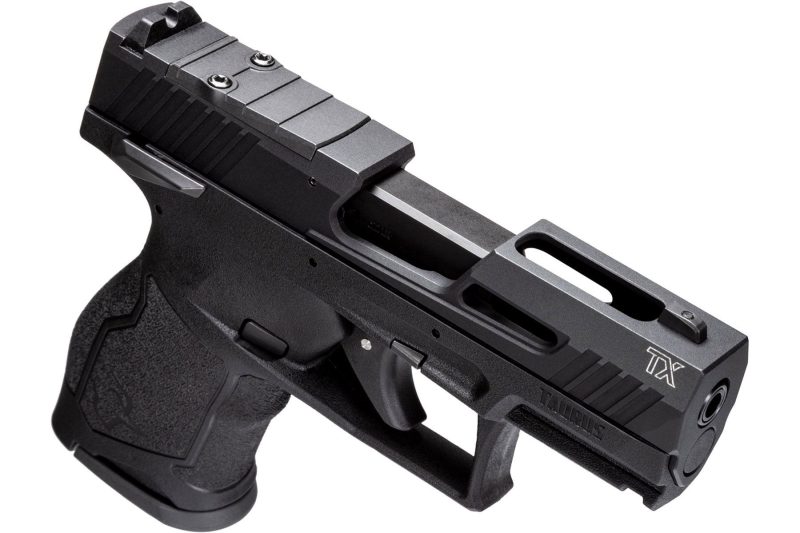 It's also a handier weapon as a working gun. You know, a gun to kill pests and not-too-friendly animals on the property, in the yard, or when exploring the great outdoors. It's perfectly sized to be a tackle box gun. A tactical tackle box gun.
The TX22 Compact holds thirteen rounds total and comes optics ready for a modern touch. It maintains the affordable nature of Taurus firearms. Plus, it's just a ton of fun to shoot and train with. The Compact is my favorite model of the TX22 and easily one of the best new .22s.
Walther WMP
The Walther WMP was quite a surprise for most of us. Walther makes great guns, and they have produced the Walther P22 for decades. What no one saw coming was the Walther Magnum Pistol or WMP, a .22 Magnum pistol. The WMP offers you a fifteen-round magazine of .22 Magnums that gives you a full-sized pistol with a good bit of rimfire power.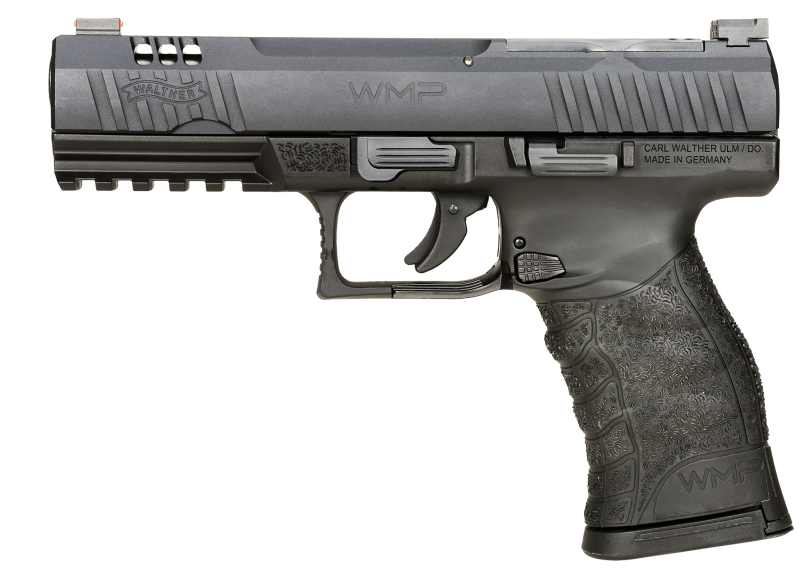 You maintain the light recoil of a rimfire but with the awesome ergonomics of a Walther pistol. It's not quite a Walther PPQ but is very reminiscent of the Walther PPQ. The WMP comes optics-ready and with a rail for lights and accessories. One of the odd features is the four magazine releases that are ambidextrous.
The WMP is a super accurate pistol that steps up in power. It offers a nicely made firearm with very light recoil that's easy to control. It's perfect for self-defense for those who are very recoil sensitive. If you want a.22 Magnum this is the most modern or the best new .22s.
Colt King Cobra
Colt is bringing back the snake guns, and I think we are all happy to see them come back. The latest that has come back is the King Cobra in a .22LR form. This big revolver holds a crazy ten rounds of .22LR in its cylinder, and it comes with that big snake gun look. This includes the vent rib, the big wood grips, and Colt stand-out look.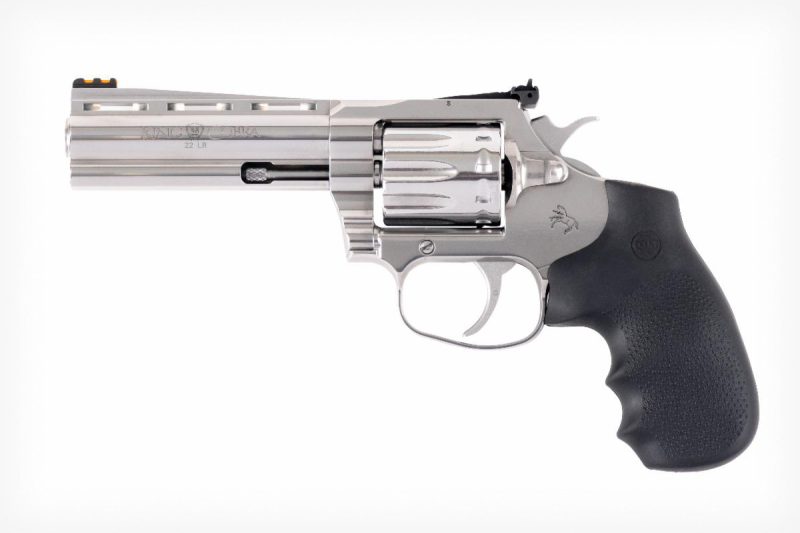 The Colt King Cobra has almost no recoil, the big frame and all that metal really chews up that recoil without issue. The King Cobra offers shooters a very big .22LR but a very capable gun. You can shoot it accurately with ease, and the smooth Colt trigger is something else entirely.
The King Cobra's biggest flaw is its price tag. It's tough to justify a grand for a rimfire. I understand the turn off, but if you can't a chance to shoot one, take it, you won't regret it. It's certainly one of the best new .22s out there.
Rimfire Life
The rimfire world is always a popular one, and it likely always will be. Who doesn't need a decent rimfire weapon in their collection? If you're lacking one, hopefully, we've helped you find one that will work for you and yours!
ABOUT THE AUTHOR:

Travis Pike is a former Marine Machine gunner who served with 2nd Bn 2nd Marines for 5 years. He deployed in 2009 to Afghanistan and again in 2011 with the 22nd MEU(SOC) during a record-setting 11 months at sea. Travis has trained with the Romanian Army, the Spanish Marines, the Emirate Marines, and the Afghan National Army.
He serves as an NRA-certified pistol instructor and pursues a variety of firearms-based hobbies.

You may also enjoy these popular articles:


©MTC Holsters, LLC and CrossBreed Holsters Blog, 2022.
Unauthorized use and/or duplication of this material without express and written permission from this site's author and/or owner is strictly prohibited. Excerpts and links may be used, provided that full and clear credit is given to Travis Pike and the CrossBreed Blog with appropriate and specific direction to the original content.