Not all guns are perfect out of the box. Here are 5 common upgrades that make your gun better for you.
Sometimes it's a good idea to customize your carry gun because there isn't a one-size-fits-all when it comes to stock pistols. You might find a stock pistol that is the most comfortable out of all the others you tried, but it's still not set up for you out of the box. There are many arguments as to why you should or shouldn't make changes to a carry gun, but in my opinion, any upgrade that improves your ability to save your life is an upgrade worth making.
5 Ways to Customize Your Carry Gun
Sights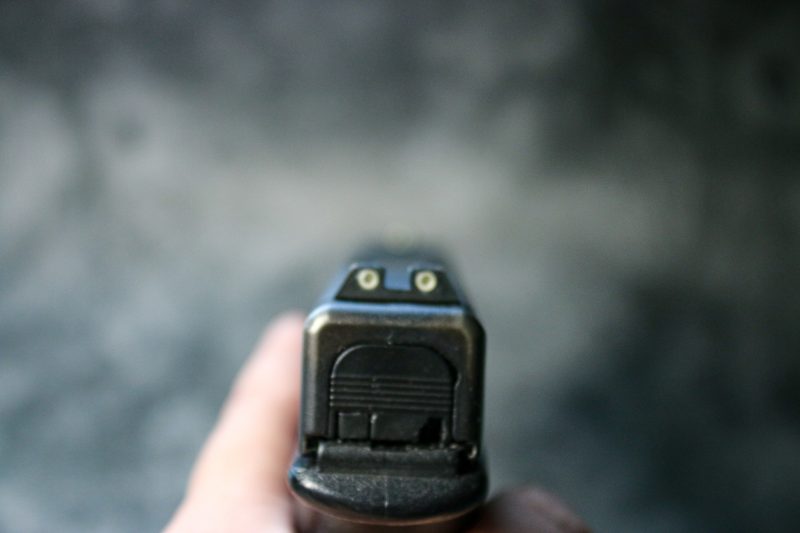 Sights are a given, but did you know that even iron sights need sighting in to fit your line of sight and vision? When looking at concealed carry pistols, consider purchasing one that has an adjustable rear sight for both elevation and windage. Adjustable rear sights can be easily moved on your own at home or on the range without a machine, vice grip, or pusher tool. You will need access to a sight pusher tool for fixed sights, many of which come standard on pistols. These can be expensive, so ask your local range or gunsmith that has one to help you adjust your rear sight while you're at the range. One thing to note is the direction you need to move the rear sight in. If your hits are too far left, you need to move the rear sight to the right. If your shots are too far to the right, move your rear sight to the left.
Once you're ready to upgrade, replace your stock iron sights with glow-in-the-dark sights, an adjustable rear sight, a front fiber optic, or a skinnier front sight. Your goal is to find the best sights you can see, are easy to align, and work in different lighting conditions.
The other option is mounting a red dot to your pistol. Many of the newer pistol models now come with dot mounting plates, but if you've got a gun that you want to use for concealed carry that can't mount a plate, you will need to go to a gunsmith to have the slide milled for one. Always sight in your red dot to you just as you would iron sights.
Grip
The stock grip on a gun will most likely not fit your hand or fingers, especially if the grip comes with finger grooves. I recommend getting a gun without finger grooves and upgrading the grip to customize your carry gun to your hand size. There are a variety of manufacturers making grip sleeves that simply slide on over your current grip. If you have a local gun shop you can go into to try out grips, I recommend doing that vs. trying to buy something online without knowing if it will fit your hand.
If you carry a 1911, choose the best grip panels for you to be able to draw your pistol out of the holster and hang on to the gun in wet, dirty, cold, or dry conditions. Grips with texture are better than most smooth grips, which can get slick with sweat and move in your hands. If you carry a polymer-framed pistol, consider having your grip stippled with a slightly aggressive, overly aggressive, or basketweave texture.
Many stock pistols come with different sets of backstraps, usually labeled small, medium, and large. Install each backstrap and grip the gun to see what backstrap gives your hand that perfect grip. If you're already struggling to reach the trigger, the large backstrap that moves your hand further back is not the one for you. If you have a large hand size and are swallowing the gun, the large backstrap may be precisely what you need to have a more comfortable grip.
Light/Laser
In addition to changing out your sights, customize your carry gun by mounting your favorite light, laser, or light and laser in one. The two primary colors used in lasers are red and green. Test both colors out if you can to see what color your eyes visually pick up better. When choosing a light, your options will be narrowed down by what pistol you're using. Find one in your budget range that is powerful, with a long-lasting battery, a good warranty, and that's easy to mount. Lastly, consider how you'd like to activate these devices. Activation pads can manually switch on using a thumb or from enough pressure from your grip.
Trigger
There are hundreds of triggers on the market, but only a few may work for you. To truly customize your carry gun, find a trigger that you can reach, for starters, one with a built-in safety if there are no external safeties on the gun, and one with an easy break (not necessarily a light trigger, but easy to pull). The trigger is the only component of the pistol that fires the shot, so you need it to work, and you have to be able to pull it. There are flat, curved, skinny, and fat triggers, and the only way to figure out what will work for you is to test them out in live-fire or at least feel them in dry-fire.
Accessories
Lastly, consider buying practical accessories and magazine extensions that increase the capacity of the gun you carry. Installing a magwell on your gun can make it easier to guide your magazine in during a reload, especially under stress. If you carry a compact pistol, especially in those hotter months, having an extra few rounds of ammo in your magazines is a good idea. Not only do magazine extensions increase capacity, but some are also designed for you to get more of your fingers on the grip of the gun. No more pinky finger dangling all willy-nilly.
Conclusion
The only person that can customize your carry gun is YOU. No one else will be able to feel your grip, see your sights as you do, know what texture you like, or pull the trigger for you.
ABOUT THE AUTHOR
Kenzie Fitzpatrick is a professional competitive shooter and an active blogger for many firearm websites. As an NRA-certified instructor and National Range Officer Institute Chief Range Officer, Kenzie trains new shooters on basic firearm safety, brings new shooters to competitive shooting, and works major matches across the country. She has a passion for teaching people how to concealed carry and is a positive ambassador for the Second Amendment.
You may also enjoy these popular articles:


©MTC Holsters, LLC and CrossBreed Holsters Blog, 2021.
Unauthorized use and/or duplication of this material without express and written permission from this site's author and/or owner is strictly prohibited. Excerpts and links may be used, provided that full and clear credit is given to David Workman and the CrossBreed Blog with appropriate and specific direction to the original content.