If you're a responsible gun owner, you know the importance of keeping your firearms out of the wrong hands, whether they be bad guys or children, neither of which should have access to anything that goes bang and kills people. So you probably have a safe — or more than one — at home. But how do you keep your firearms safely locked away when you travel?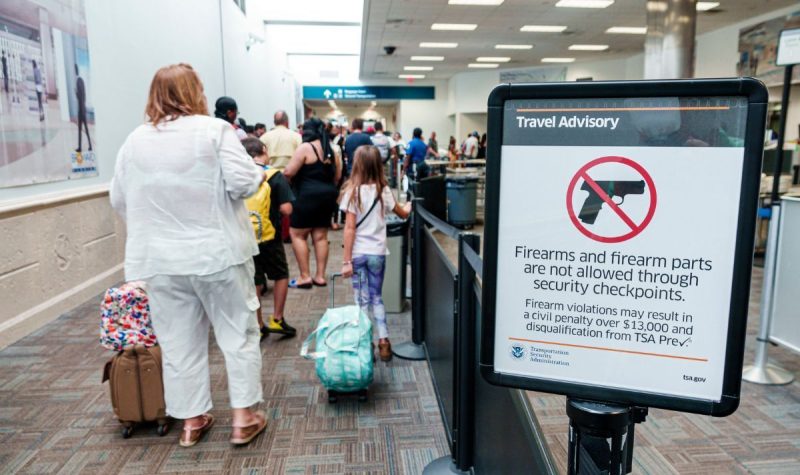 Believe it or not, you can fly on a commercial aircraft with your gun. It just can't be on your person or in your carry-on. It has to be in your checked bag. As uncomfortable as it may seem to admit that you need to check a firearm (don't use the word "gun" in an airport because it makes people nervous), experienced ticket agents hear it all the time and aren't fazed. They will talk you through the process and get you and your firearm headed toward your flight — separately.
One of the criteria for flying with a gun is that it must be locked in a hardshell case. There are no specs about the shell's material, but it can't be a soft case. And it must be lockable with either a padlock or a built-in locking mechanism.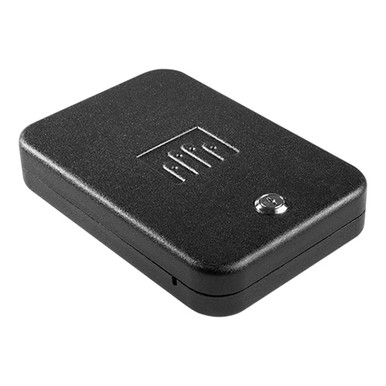 I've been using a Gun Vault NV200 (NV stands for NanoVault because of its diminutive size) for a few years and have flown with it nearly a dozen times with nary an issue. I've had ticket agents tell me it's one of the best travel safes they've ever seen. Yes, some ticket agents are comfortable enough with it to carry on a conversation while checking your firearm-containing suitcase like it's no big deal because to them it isn't a big deal if you follow the rules.
The Gun Vault NV200 measures 6.25″ x 9.25″ x 1.5″ on the inside and 6.5″ x 9.5″ x 2″ on the outside, making it ideal for carrying one compact or smaller gun and a spare magazine. This vault is the perfect size if you're traveling with your concealed carry gun to protect you at your destination. I carry a Smith & Wesson Shield, which fits comfortably inside the case with just enough wiggle room that I don't feel like I'm about to close the top and crush the edges of the gun.
The NV200 is about as big as a small hardback book for size comparison.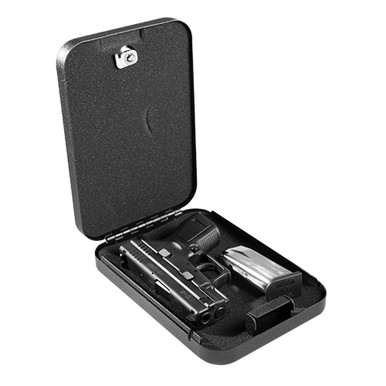 The solid 18-gauge steel outside is covered in a black powder coat for scratch and ding resistance. The lock operates with a single key that fits easily into the embedded mechanism.
The Gun Vault NV200 can also be used as a vehicle safe with a rubber-coated steel cable rated at 1,500 test weight. Simply thread the cable through the attachment point on the safe and wrap the other end about the vehicle's seat rail. Because it's so small, you can slide the safe under the seat and out of sight.
Priced at a very reasonable $39.99, the Gun Vault NV200 is a cost-effective and secure way to keep your firearm safe while traveling.
(Product images courtesy of Gun Vault.)
ABOUT THE AUTHOR:

David Workman is an avid gun guy and a contributing writer to several major gun publications. As an NRA-certified instructor, David trains new shooters on basic handgun skills and CCW requirements and is a strong advocate for training as much as possible. "Real-life shootouts don't happen at a box range."
You may also enjoy these popular articles:


©MTC Holsters, LLC and CrossBreed Holsters Blog, 2022.
Unauthorized use and/or duplication of this material without express and written permission from this site's author and/or owner is strictly prohibited. Excerpts and links may be used, provided that full and clear credit is given to David Workman and the CrossBreed Blog with appropriate and specific direction to the original content.